Tom Cruise And Cameron Diaz Rom-Com Together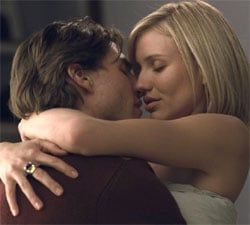 Tom Cruise and Cameron Diaz may be paired up in a new rom-com. Somebody get Tom Cruise a ladder.
Variety says Fox has hired James Mangold to direct a romantic comedy without a title. At some point it was called Witchita and then Trouble Man, but no longer. The movie is being planned as a way to pair Cruise and Diaz.
What's it about? Same old, same old. Cameron would play a woman who has terrible luck with men, until she meets a handsome dude on a blind date. Hey Tom Cruise is handsome! I bet he could play that.
The weirdest thing about this potential pairing isn't however, their relative height difference. Tom and Cameron have made sweet, mismatched love before. It worked in Vanilla Sky. Presumably they just hooked Tom to a flying harness or something. No what's weird is this: Take a minute to picture in your head, all of Tom Cruise's past romantic comedies. Drawing a blank? That's because he's just about the only actor in Hollywood who's never done any. In fact he's never really done any romance movie of any kind. Sure he always gets the girl, but it's usually on the side, while taking a break from flying jets or serving booze.
Your Daily Blend of Entertainment News