Tom Cruise's One Shot Officially Retitled Jack Reacher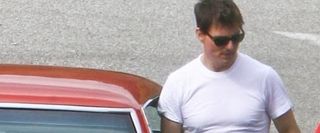 Thanks to the huge success of Mission: Impossible - Ghost Protocol last December, Tom Cruise is back to being considered one of the planet's biggest movies stars, which is great news for all the movies that will feature him in the coming months. As I write this I just caught a TV spot for the musical Rock of Ages, which promoted Cruise heavily in his role as the aging rocker Stacee Jaxx, but he's got another big star vehicle coming later this year with the project previously known as One Shot, which has just undergone a title change.
According to THR, Paramount has changed the title One Shot to the simple Jack Reacher, which as you might guess is the name of the character Cruise plays. We had a hint of this news a few weeks ago, but the confirmation has only come to us today. Reacher is the central figure in a series of novels by Lee Childs, and though the upcoming movie is based entirely on the book One Shot restricting the title to just the character's name gives them a lot more options for a franchise. Just think of all the awkward hoops studio have jumped through to get franchise titles like The Twilight Saga: Breaking Dawn- Part 1 (based on a book just called Breaking Dawn), or The Hunger Games: Catching Fire (same deal). Now the Jack Reacher sequels could bear the relatively simple titles like Jack Reacher: Echo Burning or Jack Reacher: Worth Dying For. We're probably saving ourselves a lot of punctuation headaches down the line.
The movie now known as Jack Reacher is set for release December 21, and stars Cruise as a former Army cop on the tail of a sniper killing people in the PIttsburgh area. This is the movie, you might remember, that had the balls to cast Werner Herzog as the villain. Come on, isn't that enough to have you interested on its own?
Staff Writer at CinemaBlend
Your Daily Blend of Entertainment News
Thank you for signing up to CinemaBlend. You will receive a verification email shortly.
There was a problem. Please refresh the page and try again.