Tomorrowland Opens Its Doors With A Fancy New Interactive Website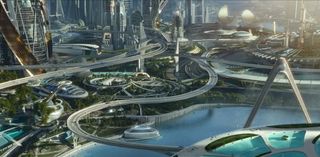 It's time to enter the world of tomorrow.
While we've only glimpsed the futuristic Emerald City in the brief Tomorrowland footage released thus far, a new interactive website has launched taking us further into this new cinematic space. If The Incredibles director Brad Bird and LOST's Damon Lindelof weren't enough to pique your interest in this film, check out these gorgeous new images.
"What if there was a place where you could actually change the world? Would you wanna go?" asks George Clooney in the Tomorrowland trailer that aired during the 2015 Super Bowl. Heck yeah we'd want to go! As seen through three new images of the ultimate destination, this mystical haven looks fantastic. As with anything made from the hands of Disney animators, this new landscape will immediately suck you in, with help from the site itself. Web.TakeMeToTomorrowland.com is an interactive experience that allows you to explore the world by clicking that special pin, the same one we see The Secret Circle star Britt Robertson touch in the various trailers. From there, you can zoom in real close on these images to see the intricate details: an electronic monorail that snakes throughout the city, glowing blue pools of water, creatively sculpted architecture and plenty of hi-tech gadgetry to go around.
Aside from this incredible city and the two leads, Tomorrowland also features the likes of Hugh Laurie, Kathryn Hahn, Tim McGraw and the always lovable Judy Greer. When a young girl beaming with scientific curiosities named Casey (Robertson) has a vision of a wondrous city, she seeks the aide of former boy-genius Frank (Clooney) to find it. Located at some point in space and time, the city of Tomorrowland is place where anything is possible, but the duo's mission to unlock its many secrets becomes dangerous.
I've seen some footage from New York Comic Con and the action will not disappoint, but the making of this awe-inspiring film is quite interesting. While the film takes its name from the Disneyland theme park attraction, but the contents of the story were inspired by a box filled with the likes of concept art, photos, memos, comic book clippings and more that was found in the basement of Disney's old animation house. From there, Lindelof and and Bird sought to make a movie from these contents about the future. As they previously described to Entertainment Weekly, "Hogwarts is to magic what Tomorrowland is to science." Based on these new images from the film, we can now see this to be true.
After the new peek we got from the Super Bowl and this new website, we couldn't be more excited to find out what Tomorrowland is all about.
Your Daily Blend of Entertainment News