Trailer For The Christmas Story Sequel You Never Asked For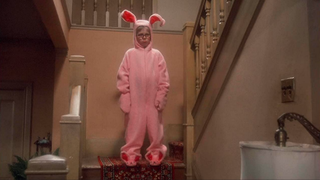 (Image credit: MGM)
It's way too early to start watching Christmas movies in general, but I'm not sure it will ever be the right time to watch the trailer for A Christmas Story 2, the "official sequel" to the Bob Clark classic that, it might not surprise you, has gone directly to a DVD and Blu-Ray release, coming October 30. But I had to watch the trailer, so you may as well suffer along with me, wondering why on earth the time has come for a sequel to the 1983 A Christmas Story, and what happened to Daniel Stern that he's gone from Home Alone to taking a role in this. It's a tragic journey, but one we must take together. Take a look below.
I'm not crazy about baby boomer nostalgia even under the best of circumstances, and A Christmas Story was kind of pushing it to begin with; returning to the 1940s, or maybe the 50s by now, and coupling it with a faux kind of glossy cinematography just feels over the top. Then again, what isn't over the top about a direct-to-DVD sequel to a movie that's perfectly fine as it is? Even the official synopsis describes this sequel as "belated."
I have no idea what makes this the "official sequel," since none of the original players are involved, but that makes it only slightly less difficult to ignore it. Check out the official synopsis below, and get ready to purchase A Christmas Story 2 for every relative you want out of your life this holiday season.
Your Daily Blend of Entertainment News
Staff Writer at CinemaBlend