Transformers: Dark Of The Moon To Surprise Fans With Early DVD Release In September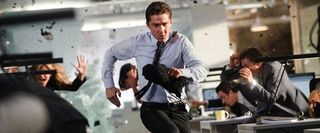 What's the best way to make the most of a Transformers: Dark of the Moon release? For Paramount Home Studios, the answer is to follow in the footsteps of Avatar by creating an initial bare-bones release and following with a secondary, chock-full release. It's not really a surprise. Despite it's horrible title, Dark of the Moon managed to make over $1.1 billion worldwide, was in theaters for several months, and even got a second release at IMAX theaters that just ended yesterday. If Paramount wants to get the film out as fast as possible while interest is high but still put together a set worthy of its most avid fans, the Avatar route is the way to do it.
On September 30, Paramount will release the low-end Blu-Ray and DVD of Transformers: Dark of the Moon. The date falls exactly three months after the movie premiered in theaters. Unfortunately, the disc will be bonus featureless, but Blu-Ray copies will come with a DVD and digital copy. Running at $19.99 for DVD copies and $29.99 for Blu-Ray copies, the early set may be basic, but it won't be expensive.
With a soundtrack specially prepared in 7.1 Dolby TrueHD, the disc specs for the September Blu-Ray release look pretty stunning. However, if you are holding out for extras or the 3D release, you'll probably have to wait until November or later. It's all a question of where your loyalties lie. It's as though someone is giving you the keys to a Honda Civic, but telling you that if you wait around for an undetermined amount of time you'll get the keys to a Lotus Elise. Do you take the proffered keys and run or would you hang in there?