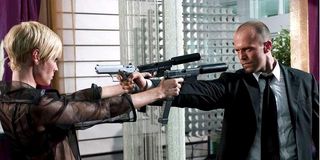 Jason Statham might no longer be behind the wheel as the Transporter, but Frank Martin still lives. Statham did his time as the heroic courier in three hit movies, but as he moved away, EuropaCorp has been planning on continuing to use the franchise. And now their plans have kicked in at full force.
EuropaCorp has announced that March 16th, 2015 brings The Transporter Legacy to the big screen. The movie is the first in a trilogy and will bring us the early days of Martin leading up to the events of the original movie. It's being directed by Camille Delamarre, who made his debut this spring as the man behind Brick Mansions. Your new Frank Martin appears to be Ed Skrein, who Game Of Thrones fans might recognize as Daario Naharis. Presumably he'll be rocking Frank Martin's trademark bald dome, but here he is on the show in case you missed him.
The Transporter turned Jason Statham from handsome Guy Ritchie day-player to action icon overnight. As Frank Martin, ex-special forces, he now delivered goods from point A to point B. Of course, he would always break the rules and examine the package, and whatever he'd find would inevitably lead him to kicking a bunch of fools in the face. The silly Transporter 2 was the biggest film of the series in America, but Transporter 3 grossed a spectacular $108 million worldwide. Statham likely saw the flagging quality of the movies and their smaller profile in America and decided to bail (why is he doing The Mechanic 2 ??). But there's still money to be made here, and the property has plenty of potential to grow at the box office. Unfortunately Skrein, all due respect, is no Statham Tough luck, kid.
While Statham is in the soon-to-be-released The Expendables 3 , The Transporter Legacy will hit screens at the same time at the Transporter TV series airs on cable. The show has hit different territories worldwide, and will debut on TNT in America soon. Starring Chris Vance (Rizzoli & Isles) and Violante Placido (Ghost Rider: Spirit Of Vengeance), the film also features the continuing adventures of Frank Martin. This character is one busy dude. Could The Transporter Legacy be the start of a new franchise onscreen? And could they have picked something other than "Legacy" to slap at the end of the title? Jason Bourne must be PISSED.
Your Daily Blend of Entertainment News