Trent Reznor And Atticus Ross To Score Gone Girl, Danny Elfman To Compose For Fifty Shades Of Grey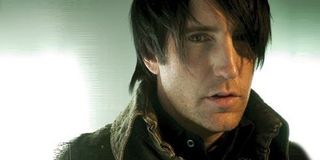 Two of the most talked about bestselling novels of the past couple of years are soon to get big glossy Hollywood adaptations, and with them scores created by some of the most-sought after composers working today. Nine Inch Nails frontman Trent Reznor is set to reteam with Atticus Ross to compose the score for David Fincher's upcoming Gone Girl, while Danny Elfman's been hired to compose for the buzzed about Fifty Shades of Grey movie, directed by Sam Taylor-Johnson.
This first bit of news originally broke courtesy of Reznor himself, who Tweeted:
Gone Girl will be Fincher's third collaboration with Reznor and Ross, who previously scored both The Social Network and The Girl With the Dragon Tattoo. The pair won an Academy Award for the former film's score, and earned a Grammy for Best Score Soundtrack for Visual Media for the latter. Get a taste of The Girl With the Dragon Tattoo's Grammy-winning music below:
Based on Gillian Flynn's chilling mystery novel, Gone Girl stars Ben Affleck as Nick Dunne, an unhappily married man who becomes the number one suspect when his wife goes missing on their anniversary. Promising to be a dark and twisted thriller--not unlike The Girl With the Dragon Tattoo--Reznor and Ross seem a solid choice for this story's score.
As for Elfman's involvement on Fifty Shades of Grey, that enticing tidbit came from from Film Music Reporter (via The Playlist). After creating the scores for a long list of films, from Batman, Batman Returns and Dark Shadows to Sleepy Hollow, Alice in Wonderland, Edward Scissorhands and The Nightmare before Christmas, Eflman's reputation as a composer has become deeply embedded with director Tim Burton, for better or worse. That said, the former Oingo Boingo singer has a far more comprehensive filmography, boasting collaborations with Warren Beatty (Dick Tracy), The Hughes Brothers (Dead Presidents), Gus Van Sant (Good Will Hunting), and David O. Russell (American Hustle). So it's little wonder Taylor-Johnson plucked this former rocker for her steamy adaptation.
Based on E.L. James' controversial romance novel, Fifty Shades of Grey stars Dakota Johnson as college co-ed Anastasia Steele, whose humdrum life is turned hot and heavy when she meets a handsome but tormented young billionaire named Christian Grey. Jamie Dornan and Jennifer Ehle co-star.
Gone Girl will hit theaters on October 3rd, 2014 and Fifty Shades of Grey will open February 13th, 2015.
Staff writer at CinemaBlend.
Your Daily Blend of Entertainment News
Thank you for signing up to CinemaBlend. You will receive a verification email shortly.
There was a problem. Please refresh the page and try again.