Tribeca Video Interview: Sun City Picture House Executive Producer Olivia Wilde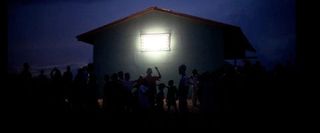 We all know Olivia Wilde for her work on House, the monster hit Tron: Legacy as well as a slew of other noteworthy films, but what's the actress up to when she's not in front of the camera? Ever since last year's earthquake, Wilde donates a significant amount of her time to working with an organization called Artists for Peace and Justice in an effort to restore Haiti's hospitals, schools and orphanages. Even while she's helping get these essentials back up and running, though, she wants to make sure they have a source of entertainment as well.
After the quake took down the last of Haiti's functioning movie theaters, aide workers David Darg and Bryn Mooser decided to enlist in the help of the local citizens to create a new one, the Sun City Picture House; as they put the theater together they also made a short film about it, and that's where Wilde stepped in. Wilde and Maria Bello served as Sun City Picture House's executive producers doing everything and anything they could to not only assist in the production of this short film, but in the completion and preservation of the Sun City Picture House, too.
Wilde calls Sun City Picture House "my proudest moment in my career." Hear all about her experience working on this production from Wilde herself in the video interview below.
(Sincere apologies for the lighting fluctuations. That's what I get for shooting a gorgeous actress with an ugly florescent light in the background.)
Your Daily Blend of Entertainment News
Staff Writer for CinemaBlend.
Your Daily Blend of Entertainment News
Thank you for signing up to CinemaBlend. You will receive a verification email shortly.
There was a problem. Please refresh the page and try again.