Twilight New Moon's Meet Jacob Black Trailer Officially Online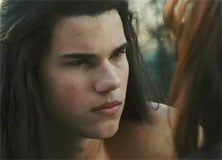 It hit theaters this weekend in front of Bandslam and it leaked out over the internet via bootleg footage, but now the brand new Twilight Saga: New Moon trailer is officially online, in a version you can watch without squinting through grainy camera footage and obstructed views.
Along with it, Summit Entertainment has released a brand new plot synopsis for the film. If you've read the book, you probably won't be surprised by it. Watch the trailer, read the newest in Twilight: New Moon words, all below:
Your Daily Blend of Entertainment News
Thank you for signing up to CinemaBlend. You will receive a verification email shortly.
There was a problem. Please refresh the page and try again.