Twilight Saga: Eclipse And Inception Lead The MTV Movie Awards Nominees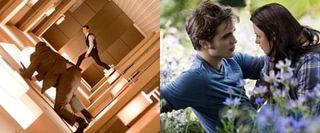 The MTV Movie Awards, always a little dumber but also more fun than your usual movie award shows, are coming on June 4, and today the network has announced the nominees for all their usual top prizes, which range from Best Movie to Best Scared-As-Shit Moment. If you've been paying any attention to the awards over the last few years you won't be surprised that The Twilight Saga: Eclipse led the nominations total with 8, and will compete against Best Picture nominees Black Swan, Inception and The Social Network for Best Movie, along with Harry Potter and the Deathly Hallows: Part 1. Yeah, that's the kind of crazy combination only MTV can provide.
Below is the full list of nominees. I'm thrilled to see Emma Stone nominated among a bunch of mediocre male performers-- Adam Sandler in Just Go With It, Ashton Kutcher in No Strings Attached-- as the only woman up for Best Comedic Performance thanks to Easy A. The Best Line From A Movie section is also surprisingly solid-- there's a bizarre inclusion of Grown Ups and one of the least clever Easy A lines, but also the two most iconic Social Network quotes ("If you had invented Facebook…" and "A million dollars isn't cool…") and the best, Tom Hardy's Inception line "You mustn't be afraid to dream a little bigger darling." Also if the zero-gravity INception fight scene doesn't manage to beat Twilight for Best FIght, I'm storming the MTV offices. Who's with me?
The awards air on Sunday, June 5 at 9 p.m. EST on MTV.
Staff Writer at CinemaBlend
Your Daily Blend of Entertainment News
Thank you for signing up to CinemaBlend. You will receive a verification email shortly.
There was a problem. Please refresh the page and try again.