Two Actresses Cast As Octavia And Portia In The Hunger Games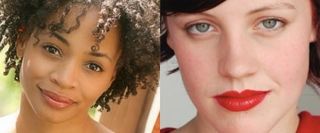 The longer that Lionsgate holds off on announcing who's been cast in The Hunger Games as Cinna, Katniss's stylist and friend, the more convinced I become that they're casting someone really huge in the role. Meanwhile, they're brought on two more little-known actors to play two of the other stylists; the studio has announced via their Twitter feed that Latarsha Rose will play Peeta's stylist Portia, and Brooke Bundy will play Octavia, a member of the team along with Cinna that helps Katniss prepare for the public stage. They also helpfully provided each actress's headshot, to save me the frantic google time; those photos are what you see above, with Rose on the left.
Bundy's acting credits are very limited, with just three titles listed on IMDB, but Rose has a fair amount of experience, including TV appearances on Law & Order and Bones and a handful of small movie roles in there too. The Hunger Games parts won't be huge for either actress, but like every other up-and-comer who's been cast in the film they're probably glad to be even a small part of such an enormous movie. As we know from the photos of Jennifer Lawrence in costume, the movie starts shooting soon in North Carolina. That Cinna announcement really ought to be coming any minute now.
Staff Writer at CinemaBlend
Your Daily Blend of Entertainment News
Thank you for signing up to CinemaBlend. You will receive a verification email shortly.
There was a problem. Please refresh the page and try again.