Two Models And One Actress Are Finalists For Transformers 3 Love Interest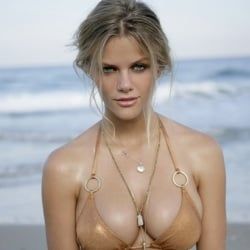 The rumor that hit over the weekend about Victoria's Secret model Rosie Huntington-Whiteley being cast to replace Megan Fox in Transformers 3 turned out to be dead-on, mostly. Deadline Hollywood is reporting that Huntington-Whiteley is the frontrunner for the role after reading for the part last Friday, but House Bunny actress Sarah White and fellow model Brooklyn Decker are also in the running.
Bay, as many suspected, is looking to launch a "fresh face," which is also code for "tracking down the hottest woman possible regardless of acting talent." It's interesting, then, that he's looking at Decker, who is fairly well known as a Sports Illustrated cover model. The actress chosen has two weeks to prepare before filming opposite Shia LaBeouf starts, so either way, there's time for enough acting lessons so the actress can at least pretend she's been chosen for her skills and her looks.
Your Daily Blend of Entertainment News
Staff Writer at CinemaBlend