Tyler Perry Beats Out Jerry Bruckheimer And Steven Spielberg To Be Best-Paid Man In Hollywood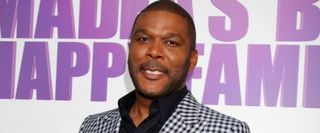 It's been a few years since Tyler Perry was Hollywood's most secret mogul. The Atlanta-based multihyphenate definitely took the industry by storm in 2005 when Diary Of A Mad Black Woman came seemingly out of nowhere to become a huge hit, but Perry has released nine more films since then, not to mention putting his name on not one but two hit TV shows. You probably know by now that Perry is a very successful, very rich man-- but did you know he's actually the richest in Hollywood?
Well, at least he was the highest paid between May of 2010 and 2011, according to a new list released by Forbes. Perry topped the list at $130 million, followed by fellow mega-producers Jerry Bruckheimer ($113 million) and Steven Spielberg ($107 million). The list expands beyond movies, making room for the likes of Howard Stern ($76 million), Dr. Phil ($80 million) and even Tiger Woods, who despite everything still pulled in $75 million last year. Only one actor besides Perry made the list-- Leonardo DiCaprio, who at $77 million topped a recent list of actors, but only comes in at eighth on the list.
These kinds of lists are always so dependent on trends from the year in question, which explains how DiCaprio made the list-- he had Shutter Island and Inception, both huge hits-- and James Cameron didn't-- Sanctum sank, and Avatar was well out of theaters by then. The fluctuation from year to year means you can't take the list too seriously and assume Tyler Perry is making more money than anyone else in Hollywood; he just happened to have a very, very good 2010. Here's the full list below if you want the complete picture of who he managed to beat out:
#1. Tyler Perry ($130 million)
#2. Jerry Bruckheimer ($113 million)
#3. Steven Spielberg ($107 million)
#4. Elton John ($100 million)
#5. Simon Cowel ($90 million)
#6. James Patterson ($84 million)
#7. Dr. Phil McGraw ($80 million)
#8. Leonardo DiCaprio ($77 million)
#9. Howard Stern ($76 million)
#10. Tiger Woods ($75 million
(Image via Helga Esteb (opens in new tab) / Shutterstock.com (opens in new tab))
Staff Writer at CinemaBlend
Your Daily Blend of Entertainment News
Thank you for signing up to CinemaBlend. You will receive a verification email shortly.
There was a problem. Please refresh the page and try again.