Universal Is Delaying A Ton Of Its Anticipated Titles For Some Reason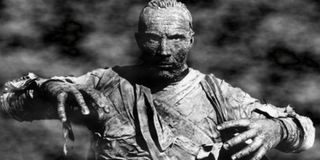 While Warner Bros. and Marvel Studios continue expanding their shared cinematic worlds, Universal is pushing back theirs. Following the release date announcements for Fast and Furious 8 and the two Fifty Shades of Grey sequels, the studio has rescheduled the start of its monster movie-verse by nine months and pushed back a few other titles.
According to The Hollywood Reporter, Universal has changed the release date for its reboot of The Mummy from June 24, 2016 to March 24, 2017. This is supposed to further the shared universe of monster films, which reportedly includes Luke Evans' Dracula Untold. However, this move is out of the ordinary for the studio, considering its desire to focus on developing these properties. This move also means that another untitled monster movie project, originally scheduled for April 21, 2017, will now open on March 30, 2018.
This news comes shortly after similar announcements for Universal and Legendary's Pacific Rim 2 and Warcraft movies. Guillermo del Toro's follow-up to the robots-vs-monsters VFX epic will now open on August 4, 2017, just under four months after its original April slot. As for Duncan Jones' big-screen interpretation of the world of the RPG computer game, Warcraft has also been pushed out of its March 11, 2016 post to June 10 of that same year. In addition, Mena, the drug-runner thriller starring Tom Cruise and directed by Edge of Tomorrow's Doug Liman, was slotted to open on January 10, 2017.
Though the reasons behind these moves are unclear, and could simply a matter of reprioritization, it seems like Fast and Furious 8 might have some part to play in all of this. After the mind-blowing success of Furious 7, which sped past the $1 billion milestone at the box office and quickly became the highest-grossing film in the franchise, Universal and Vin Diesel announced that the next installment will open on April 14, 2017. Pacific Rim 2 was originally slated to open a week earlier on April 7, and, though this is just a speculation, perhaps the studio didn't want two of their big blockbusters competing with one another in such a short time period. As for the others, the summer months typically offer stronger numbers to films than those positioned in April.
These shuffles follow the studio's big reveals at CinemaCon in Las Vegas. In addition to the Fast and Furious 8 announcement, Universal gave release dates for Fifty Shades Darker (February 10, 2017) and Fifty Shades Freer (February 9, 2018), which will continue the love affair between the reluctant Anastasia Steele (Dakota Johnson) and her BDSM lover Christian Grey (Jamie Dornan). Universal has a hefty slate of titles in the works, all of them promising. Now for us, that means we should hunker down and start playing the waiting game.
Your Daily Blend of Entertainment News
Thank you for signing up to CinemaBlend. You will receive a verification email shortly.
There was a problem. Please refresh the page and try again.