Veronica Mars Movie Update, And Another Kickstarter Record To Break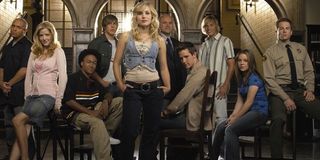 When a film is in its earliest stages of development, especially when it's just a script. filmmakers will try their hardest to keep the details to themselves. But now that we're all investors in the Veronica Mars movie, we may be getting regular updates-- call them quarterly reports, but for a movie instead of a corporation.
The newest batch of details went straight to the Kickstarter backers, and shared with the rest of us at Entertainment Weekly. With a week left to go in the original Kickstarter campaign, there's already $4.6 million in the pot, smashing the record for the most money raised through the site. But Thomas has set his sights even higher, aiming to set the record for the most backers for any Kickstarter campaign. They're 23,000 away from passing the 87,142 who funded The Double Fine Adventure video game, and Thomas has set up a $1 campaign minimum to encourage as many people as possible to donate. So if you haven't gotten on board yet, make another one of Rob Thomas's dreams come true! Pitch in that single dollar!
In his update for the backers he explained why the $4.5 million-- more than twice the original $2 million goal-- is still not exactly a ton for a movie, and how every little extra will help them make something that's closer to the dream Veronica Mars movie fans have been anticipating. Here's how he laid it out:
The myriad details that go into making a film mean that every little bit really does count, form allowing for more extras or more expensive locations to being able to write entire extra scenes made possible by a few extra thousand dollars. Thomas has put himself in a position where he has to be accountable to a lot of people for how he spends his money, and at his point it's pretty easy-- the film exists only as a script that he's in complete control over. But as Veronica Mars gets closer to becoming a reality, a whole lot more people-- and a whole lot more decisions-- are going to get involved. If the Kickstarter backers don't like his choice of an actor or a shooting locations, is Thomas going to have to come out and apologize for it?
It's going to be a fascinating process to watch, and so far the general goodwill around the project seems to suggest smooth sailing. If more updates like this keep coming, we'll have lots of insight into how it happens-- the good and the bad.
Staff Writer at CinemaBlend
Your Daily Blend of Entertainment News
Thank you for signing up to CinemaBlend. You will receive a verification email shortly.
There was a problem. Please refresh the page and try again.