Video Interview: 127 Hours Screenwriter Simon Beaufoy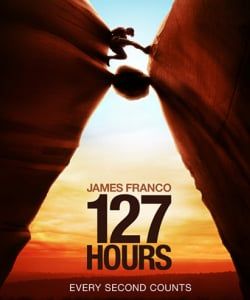 At the end of a press conference for 127 Hours two weeks ago, I was chatting with some journalist friends about the film's title, and why it had been changed from the title of the memoir on which it's based, Aron Ralston's Between A Rock and A Hard Place. "127 Hours" seemed awfully specific, I was saying out loud, when a British voice chimed in-- "Puns. I hate them."
The voice, of course, belonged to Oscar-winning screenwriter Simon Beaufoy, who adapted Ralston's memoir alongside Danny Boyle, who directed the kinetic, soulful, deeply moving film that resulted from their collaboration. Along with James Franco, putting in a frankly stunning performance, the three recreated the torturous conditions of Ralston's ordeal when his arm was pinned beneath a rock during a hiking trip in the Utah desert. Trapped for, yes, 127 hours, Ralston eventually resulted to cutting off his arm below the elbow, using nothing but a cheap, dull knife and an iron will.
Beaufoy didn't just have the challenge of writing that now-infamous arm cutting scene, but of telling a story about a man trapped in a single location for days, and of recreating to the best of his ability the actual personality of Aron Ralston, who collaborated closely with Beaufoy, Boyle and Franco on the film. I asked Beaufoy about all of those challenges, plus the news of how many people have fainted during screenings of the film, during our 15-minute conversation, which you can watch below. 127 Hours opens this Friday, and I promise, it's terrific.
Staff Writer at CinemaBlend
Your Daily Blend of Entertainment News
Thank you for signing up to CinemaBlend. You will receive a verification email shortly.
There was a problem. Please refresh the page and try again.