Video Interview: Diary Of A Wimpy Kid 2's Devon Bostick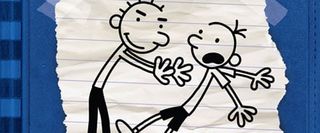 What's it like being 19-years-old hanging out on a film set with a bunch of 12-year-olds? Sugar-packed, of course, but also a ton of fun. The majority of Devon Bostick's co-stars in Diary of a Wimpy Kid: Rodrick Rules might be nearly half his age, but Bostick had to watch his back; these were some pretty smart kids he was working with.
In Rodrick Rules, the sequel to last year's Diary of a Wimpy Kid, Bostick reprises his role as Rodrick, Greg Heffley's big brother who enjoys bullying his little bro day and night. When the sibling rivalry between the two peaks, mom (Rachael Harris) steps in and arranges a plan to entice them to work out their differences. "Mom bucks," rewarding the boys for spending time together with monopoly money, might not be particularly effective, but leaving them home alone certainly is. Their night of freedom does bring the boys closer together, but only because they've got to work together to cover up the mess they make.
This time around, Wimpy Kid is a monumentally different film for Bostick. Whereas last year, we watched as Rodrick popped up now and again to give Greg a hard time, in Rodrick Rules, he's as much of a primary character as Greg. While the opportunity to lead such a big production was a major milestone for Bostick, the hefty duty came with some concerns, too. However, with his friends by his side and the support of a cast and crew that's practically become a family to him, Bostick seized the opportunity and had a blast doing so.
Hear all about his experience making Rodrick Rules, Bostick's plans for the future and even a little something about The Hunger Games in the video interview below.
Your Daily Blend of Entertainment News
Staff Writer for CinemaBlend.