The Villains Batman Will Interact With In Suicide Squad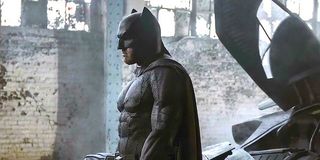 Suicide Squad is packed with super villains and other scheming figures, but the movie isn't without any heroes. Not only is Katana a willing member of the officially named "Task Force X," but months after debuting in Batman v Superman: Dawn of Justice, Ben Affleck's Batman is also participating in the third DC Extended Universe entry. Although the Caped Crusader's exact role in Suicide Squad hasn't been revealed yet, reports and shots from the trailers make it clear he has history with all the main villains. However, moviegoers will only see him interact with Deadshot, Harley Quinn and The Joker during the actual story.
Although Batman is responsible for sending all of the Suicide Squad baddies to prison, Batman-News confirmed that Floyd Lawton and Harleen Quinzel will be the main baddies that Batman shares screen time with in the movie. He'll share two scenes with Deadshot, one of which is described as "emotional" and the other is a flashback. The Harley scenes, as we've seen in the trailers, will involve him rescuing her after her and Joker's car crashes into the water. As for Joker, Batman's arch-nemesis, the report says that he and the Dark Knight won't have much time together, but presumably we'll see those two have a showdown during one of the future Batman solo movies.
Joker and Harley are important members of Batman's rogues gallery, so it came as no surprise when last year's Suicide Squad footage at Comic-Con showed a car chase between the hero and villains. Since Batman is only saving Harley, it sounds like Joker will escape during the chase, leaving him to pop up again once Harley has joined the Squad. So far none of the previews have shown Deadshot and Batman clashing, but Will Smith mentioned last month that there will be a big fight between his character and Gotham City's vigilante. Maybe this will be the flashback showing how Floyd was sent to prison. It's harder to tell what this "emotional" scene is, though maybe it will involve Deadshot's daughter, the only person he truly cares about.
Despite these scenes, Batman's role in Suicide Squad is only expected to be a minor one. After all, he can't divert all the attention away from the team of super villain operatives. That said, Batman may have more to do than just what was mentioned above. It was rumored last year that at some point during Suicide Squad, Batman will corner Amanda Waller and voice his issues with the team's existence, just like he's done in the comics and other media stories. Batman has dedicated his life to locking up criminals, so he'll be angry to hear that they're being sent out on missions for the government. Unfortunately for him, Amanda Waller doesn't scare easily, and she's not going to stop using them even if Batman "chats" with her.
Suicide Squad hits theaters on August 5.
Connoisseur of Marvel, DC, Star Wars, John Wick, MonsterVerse and Doctor Who lore. He's aware he looks like Harry Potter and Clark Kent.
Your Daily Blend of Entertainment News
Thank you for signing up to CinemaBlend. You will receive a verification email shortly.
There was a problem. Please refresh the page and try again.