Viola Davis' Suicide Squad Character Is Apparently A Badass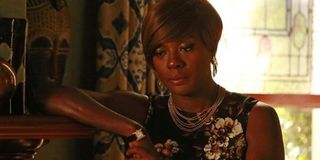 In case you missed the memos, Suicide Squad's immovable ice queen, Amanda Waller will be nothing less than an extraordinary badass. While such an idea has already been emphasized on a number of occasions, actress Viola Davis just definitively declared her character's badass status, while showcasing some shoot-suffering wounds inflicted upon her in the process of carrying out said acts of badassery!
Appearing on Jimmy Kimmel Live!, Viola Davis seemed to be facing an interlocutor who was completely unfamiliar with Amanda Waller. The result was some playfully antagonistic banter that even managed to get Davis to divulge just a little bit more detail about her sinister Suicide Squad overseer. Incredulous at the threatening nature of the character, Kimmel asks Davis how Superman would react to Waller. Davis would then drop the hammer, stating unequivocally:
Kimmel seemed to remain unconvinced, as the rhetorical sparring session also took the form of some slight mockery. Tellingly, Kimmel's only frame of reference for Waller was the pic below that he had on hand, showcasing an unassuming overweight older, pre-New 52 rendition of the character. Based on that imagery, Kimmel commented that "her power seems to be juggling keys." This was after Kimmel had already stated that, "Amanda Waller sounds like the name of your beautician, or something."
Of course, Davis was not about to take those dismissive shots lying down and decided to provide powerful provenance regarding the kind of killer activities in which her Amanda Waller will partake by revealing an on-set injury she sustained. According to Davis:
Tongue-in-cheek showboating aside, the remnant wound of Davis' severely sliced finger was probably the only thing that she could seriously discuss about the potential action sequences involving her character in the upcoming super-villain mega-movie team-up without divulging serious spoilers. What we do already do know about the character, throughout her various reinventions over the years in the pages of DC Comics, is that she is an extremely intelligent, manipulative, calculating pragmatist who will, without batting an eye, carry out the most egregiously unconscionable of acts in the name of accomplishing her mission. In fact, in the Kimmel interview, Davis even qualifies her character by saying, "We're playing sociopaths!"
Davis' take on Amanda Waller will actually be the third live-action realization of the character within a window of just five years. Angela Bassett briefly played the character as an Easter Egg of sorts, appearing in 2011's failed tent-pole, Green Lantern. The character would also see a prominent recurrence on the CW's Arrow, played by Cynthia Addai-Robinson, who headed the television continuity's version of the Suicide Squad team, which will be downplayed upon the buildup to the film. Davis certainly seems proud of the role, indicating it could prove a transformative moment for the Oscar-nominated star of The Help and the Golden Globes-nominated television show, How to Get Away with Murder.
We will certainly see what kind of badass Davis' Amanda Waller will become when she joins names like Will Smith, Margot Robbie, Joel Kinnaman and Jared Leto's headline-making new take on the Joker in Suicide Squad. The film hits theaters with a concentrated force of villainy on August 5, 2016.
Your Daily Blend of Entertainment News
Thank you for signing up to CinemaBlend. You will receive a verification email shortly.
There was a problem. Please refresh the page and try again.