Wait, Is Paddington Bear Actually Awesome?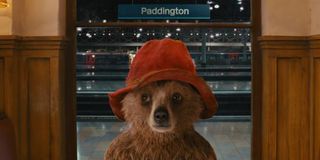 When Paddington lost Colin Firth last summer, the film, which had been going smoothly, seemed to have lost its footing. Quickly the producers replaced Firth with Ben Whishaw, who sounded to be a better fit for the beloved childhood bear. Then the film had another setback, when the British Board of Film Classification labeled it as PG with some bizarre reasons for a children's book adaptation. Add on a terrible first trailer, and some creepy CG photos of the bear, and there weren't high hopes for the film. But, it turns out, that Paddington is actually awesome, so much so that it has been nominated for BAFTA awards.
The BAFTAs are not taken lightly. Paddington is placed among some big-time films that have received endless praise. The adorable bear is up for two awards including Outstanding British Film and Adapted Screenplay. For the first prestigious award, Paddington will go up against '71, The Imitation Game, Pride, The Theory of Everything and Under the Skin. There's no doubt that Paddington is definitely a British film (he's even got the name to prove it), but to be paired with the likes of these critically-acclaimed movies is absolutely incredible. And proves that the film goes far beyond the cute and classic children's movie we assumed it to be. Paddington is also up for the Adapted Screenplay awards, competing with American Sniper, Gone Girl, The Imitation Game, and The Theory of Everything.
The marmalade-loving, duffle coat wearing bear will sure have some heavy competition at the BAFTAs, and would be a major surprise to prevail over the likes of his competitors, but aside from trying to answer the debate of whether or not Paddington will win, we've now at least answered the debate about whether or not we should see the film with a definite yes. The film has a current score of 97% on Rotten Tomatoes, and people can't stop talking about how much of a delight the Peruvian-turned-city bear is. Directed by Paul King and produced by Harry Potter producer David Heyman, the British film looks to be a fun adventure through London.
The polite, anthropomorphized bear is a classic children's book character that has long awaited his deserved time on the big screen. Along with big names such as Hugh Bonneville, Sally Hawkins, Julie Walters, Jim Broadbent, Nicole Kidman, Peter Capaldi, and of course voiced by Ben Whishaw, a decent movie was expected, but an award-nominating performance was quite the happy surprise. The family-friendly adventure has done its job in warming the hearts of all, even the sometimes cold-hearted critics. The film was first released in the UK on November 28th, 2014, and is expected to release in the U.S. on January 16th, 2015.
Your Daily Blend of Entertainment News