Wait, Paddington Bear Has Sex References?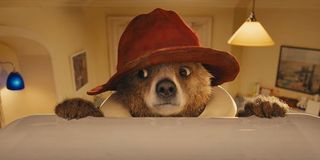 When I sit on the edge of my son's bed and read him Paddington bear books, the two of us just love pausing on every swear word and subtle sex reference. That dirty bear! Such a foul mouth, with a mind that's constantly in the gutter. Oh, Paddington. What shocking thing will come out of your raincoat next?!
OK, no one thinks that about Paddington, except maybe the filmmakers behind the strangely controversial Paddington film, due in theaters next year. The British Board of Film Classification has labeled the supposed family affair with a PG classification, stating it includes "dangerous behaviour, mild threat, innuendo, [and] infrequent mild bad language." As if that wasn't enough, the Daily Mail adds that the BBFC found "mild sex references" in the movie, leading to the Parental Guidance rating.
Paddington author Michael Bond, 88, has a cameo in the film. He spoke with the Daily Mail about this rating, and stated:
Just… what? What kind of movie is this? The Paddington movie has been shellshocked by a number of controversies leading up to this release. There was the viral meme that turned Paddington from a gentle bear into a horror-movie stalker.
And then there was the surprising reveal that Oscar winner Colin Firth had departed the project because the bear "simply doesn't have my voice." Meaning Firth didn't want to work blue. Ben Whishaw had no problems with it, apparently, so he took over and filled Paddington with all of the filthy jokes he could muster.
Maybe we are missing something? Are there jokes in this trailer that stand out? Or is this a mistake by the ratings board?
See for yourself when Paddington opens in theaters on January 16. But leave the kids at home, first. To protect their virgin eyes and ears.
Movie junkie. Infatuated with comic-book films. ReelBlend cohost. Resident dad. Extroverted introvert. Wants to see the Snyder Cut. Managing Director at CinemaBlend.
Your Daily Blend of Entertainment News
Thank you for signing up to CinemaBlend. You will receive a verification email shortly.
There was a problem. Please refresh the page and try again.