Warner Bros. To Bring Back 77 Sunset Strip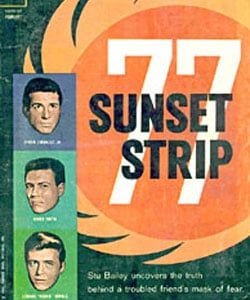 Warner Bros. is digging deep into the classic TV archives to get a hold of the series 77 Sunset Strip. According to Deadline, the studio hired Greg Berlanti, who's busy prompting his new film, Life As we Know It, at ShoWest, to direct. He'll also produce alongside author A. Scott Berg and Kevin McCormick via Langley Park. Stephen Chin is being courted to pen the script.
77 Sunset Strip is way beyond my years, but Wikipedia informs me it was a private detective series that ran from 1958 to 1964. Efrem Zimbalist Jr. starred as Stuart Bailey, one of two L.A. detectives, who were formerly government secret agents. His partner, Jeff Spencer, was played by Roger Smith. Together the duo worked as private eyes out of an office at 77 Sunset Strip. When not hard at work, they could be found at Dino's, a swinging posh lounge and a prime source for ladies.
Based on the description alone, I'm getting a Starsky & Hutch vibe. This fight scene Deadline posted with the article is a little on the silly side, but perhaps that's only because I'm comparing it to the modern CGI-enhanced battles I'm consumed by today. Are there any 77 Sunset Strip fans out there? Do you think this has potential?
Staff Writer for CinemaBlend.
Your Daily Blend of Entertainment News
Thank you for signing up to CinemaBlend. You will receive a verification email shortly.
There was a problem. Please refresh the page and try again.