Warner Bros Buys Spec Script From Twitter Star Kelly Oxford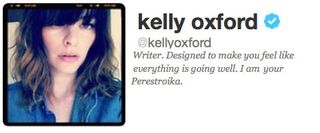 In a story that's sure to inspire as much jealous hatred as it will desperate imitators, Kelly Oxford, who has twice made Time's list for the 140 best Twitter feeds, has just sold her spec script Son of a Bitch to Warner Bros for a six-figure deal. Oxford's Twitter following loves her irreverent sense of humor, and so seems sure to be pleased by the plotline of Son of a Bitch.
Deadline reveals the story centers on a popular, pot-smoking party girl, who refuses to lose momentum or her reputation just because she's gotten pregnant. Like countless scripts that are currently being pitched, Son of a Bitch is being described as a raucous comedy in the vein of Bridesmaids, but unlike many of the rest, this screenplay has a scribe whose shown to have a sharp and fearless approach to humor, which you can get a hint of in some of her selected tweets below:
Basically, the success of Bridesmaids has opened Hollywood's eyes about the commercial prospects of R-rated, female-fronted comedies. However, with studios eager to cash in on this realization, we're likely to see a bunch of imitators that will totally miss the mark. Still, those movies that are original, wickedly funny, and have a female protagonist will inevitably be compared to Bridesmaids—for better or worse—until Hollywood sees this as more than a trend. Unfortunately, that will take a while.
Anyhow, Warner Bros. isn't the only studio that has taken notice of Oxford's comedy savvy and 300,000+ followers. Both CBS and NBC have snatched up pilot scripts from this witty writer, who will see the publishing of her first book, a collection of humorous essays titled Everything Is Perfect When You're A Liarthis fall.
You can join Oxford's following—which boasts such big names as Jason Segel, Richard Dreyfuss and Alec Baldwin—@kellyoxford.
Your Daily Blend of Entertainment News
Staff writer at CinemaBlend.