Warner Bros. Pulls Hereafter From Japanese Theaters Following Tsunami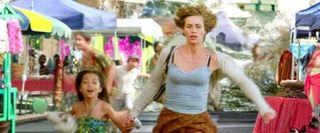 Though Hereafter is by now basically an afterthought from the 2010 movie season, a Clint Eastwood movie starring Matt Damon that virtually nobody managed to see, it apparently was newly in theaters in Japan as of last Friday, when a devastating earthquake and tsunami struck the country. Given that the opening sequence of the film recreates the 2004 tsunami that hit Indonesia-- a special effect so good it was nominated for an Oscar-- it's especially bad timing for Warner Bros. to have the movie in theaters.
i doubt that many people in areas affected by the tsunami are even making it to movie theaters right now, but just in case Warner Bros. has pulled the film from Japanese release, according to The Associated Press. Satoru Otani, an official with Warner Entertainment Japan, said the tsunami scenes were "not appropriate" right now. That's kind of an understatement, but kudos to Warner Bros. for recognizing a potential PR disaster and cutting it off early. Here's hoping any Japanese ads or anything else for the movie featuring the tsunami scene has also been scrapped.
Your Daily Blend of Entertainment News
Staff Writer at CinemaBlend