Warner Bros Taps Puss In Boots Scribe To Rewrite Mandrake The Magician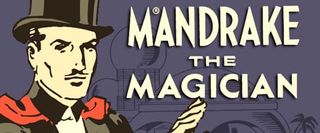 Earlier this year Warner Bros announced plans to adapt Lee Falk's comic strip Mandrake the Magician into a PG-13 action-adventure in the vein of Guy Ritchie's Sherlock Holmes. However, the project has been laboring in development at Atlas Entertainment since 2009. And it seems now that Warner Bros is on board, they want a fresh start on this re-imagining, as Variety reports the studio has brought in Tom Wheeler, Puss in Boots scribe and creator of the short-lived action series The Cape, to rewrite Mandrake the Magician's screenplay, which was originally drafted by David and Janet Peoples, who co-wrote Terry Gilliam's Twelve Monkeys.
For those unfamiliar with the long-running comic, Mandrake the Magician followed the adventures of the titular illusionist who had a special talent for quickly hypnotizing people, making them susceptible to his every command. While this sounds like a useful skill set for a comic book villain, Mandrake utilized his unique ability to foil the evil schemes of wide array of gangsters, mad scientists, and even malevolent aliens.
It's hard to imagine how Wheeler will be able to make hypnotism seem fresh and thrilling within the context of an action movie. However, as the comic ran from 1934 until 1964, he has a variety of cultural backdrops to choose from. Plus the diverse range of Mandrake villains also allows for some freedom in genre. Still, it's hard to picture a hypnotist rivaling the kind of cool factor that the character of the smugly smart Sherlock Holmes immediately offers. Suffice to say Wheeler has his work cut out for him.
Your Daily Blend of Entertainment News
Staff writer at CinemaBlend.