Watch The New 8-Minute Girl With The Dragon Tattoo Trailer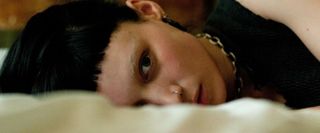 In addition to releasing six tracks from the Girl with the Dragon Tattoo soundtrack and offering his and Karen O's cover of "Immigrant Song," Trent Reznor linked last night to a new eight-minute trailer for the movie, complete with music he and collaborator Atticus Ross scored specifically for this trailer. You can stream the whole thing in high-res at the iTunes store (opens in new tab) for free-- and we really recommend you do that-- but you can also watch it below, via an embed procured by our friends at The Film Stage. Take a look below:
There's so much plot in the movie, based on the first book in Stieg Larsson's Millennium trilogy, that this trailer can explain a whole lot without really spoiling anything. In fact, if you haven't read the books it's probably good to familiarize yourself with the basics before diving into the movie. Even if you don't care about the plot, though, it's worth getting a look at David Fincher's always amazing cinematography, which spans a huge range of color palettes and styles while both depicting the world of Lisbeth Salander (Rooney Mara) and revisiting the historical mystery that she and Mikael Blomkvist (Daniel Craig) will be solving. As you might know from seeing the original Swedish movies, this much plot can feel daunting and plodding when not told with style; that seems to be one hurdle Fincher has no trouble clearing.
I've been listening to the six-track sampler from Reznor's score all morning, and i hope you have been too. The music here is equally as impressive, and it's kind of great to think that Reznor is really putting in the effort to make sure everything is as detail-perfect as Fincher undoubtedly wants it to be. The Girl WIth The Dragon Tattoo isn't coming to theaters until December 21, but at the rate we've been going, I guarantee we'll be hearing plenty more about it until then.
Staff Writer at CinemaBlend
Your Daily Blend of Entertainment News
Thank you for signing up to CinemaBlend. You will receive a verification email shortly.
There was a problem. Please refresh the page and try again.