Watch All Of The Black Mamba: Robert Rodriguez's Short Film With Kobe Bryant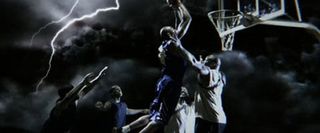 Kobe Bryant led the Western Conference All-Stars to a win over the East tonight by scoring 37-points. Ok, a lot of that was because he played more minutes than anyone else and everyone on his team sort of stood back and let him do this thing. All-stars don't play defense. Did anyone see that sweet fade-away field goal Dirk made? I guess not.
When any basketball player gets as famous as Kobe Bryant, acting is sure to follow. At least that's the way Michael Jordan did it. Here's the good news: Kobe may not be a better basketball player than Jordan, but if he does turn to film acting, he's definitely a better actor.
Maybe you've seen the commercials for the short film Robert Rodriguez directed with Kobe. Thanks to Nike, the full short film, The Black Mamba is available online. Watch Kobe face off against Danny Trejo, Bruce Willis, and Kanye West in the Robert Rodriguez short, below:
Alright, maybe he's not all that much better at acting than Michael, after all.
Image 1 of 4
Kanye West in The Black Mamba
Bruce Willis in The Black Mamba
Your Daily Blend of Entertainment News
Thank you for signing up to CinemaBlend. You will receive a verification email shortly.
There was a problem. Please refresh the page and try again.