Watch Emily Blunt Talk About That Time She Saved Meryl Streep's Life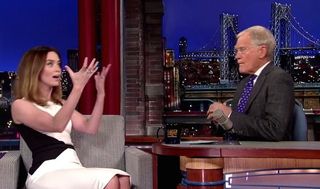 Meryl Streep is widely regarded as the best actress of her generation. In fact anyone who wants to argue with her credentials will have to debate with three Academy Awards that have her name etched on the bottom. But we have Emily Blunt to thank for the fact that Meryl Streep is still around to show off her talents, because she saved her Into The Woods co-star's life.
Emily Blunt relived Meryl Streep's brush with death, which occurred while the pair shot Into The Woods, during her appearance on The Late Show With David Letterman. I'll leave it to the effortlessly witty and charming gal to tell her heroic tale.
Cue rapturous applause from The Late Show's audience, who were overjoyed to hear that Emily Blunt, despite the fact that she was pregnant with her first child, Hazel, at the time, had leapt into action. It's clear why Tom Cruise sought her action attributes for Edge Of Tomorrow now. Emily Blunt did confirm that she might have slightly embellished her version of events. She admitted that Meryl Streep might have only received a mild concussion rather than permanent death if her head had collided with the floor. But it would be harsh to deny the actress her moment of glory. Especially since in their two films together, The Devil Wears Prada and Into The Woods, Meryl Streep's characters have treated Emily Blunt terribly.
Emily Blunt even admitted that The Deer Hunter actress now owes her big. In fact she has even worked out what she can do to repay her. She wants Meryl Streep to play the lowly dressmaker to Emily Blunt's Queen Of Versailles. Unfortunately when Emily Blunt proposed this potential movie to Meryl Streep she simply responded, "Dream on." You would have thought that Meryl Streep might have been a bit more responsive when you consider what Emily Blunt did for her.
During her interview with David Letterman, Emily Blunt once again reminded the world why men and women of all ages have become so smitten with her. Not only did she describe Meryl Streep as being so "amazing it is annoying" but she also confessed that despite her near fatal fall, Blunt believes Streep isn't "supposed to die". What. A. Woman.
Your Daily Blend of Entertainment News
Thank you for signing up to CinemaBlend. You will receive a verification email shortly.
There was a problem. Please refresh the page and try again.