Watch Every Single Hitchcock Cameo From His Entire Career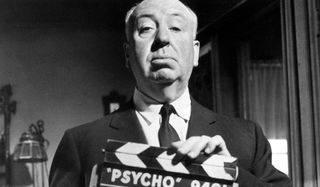 Throughout the canon of Alfred Hitchcock classics, there's one actor Hitch could always depend on showing up to do their part... himself! Now a YouTuber has put together a full compilation of all of Hitchcock's classic cameos, available for your perusal below.
User Will Erickson went through the entire Hitchcock catalog, which reaches back to his silent film work starting in 1927 and spans through his original British films, before making the leap to the man's Hollywood days. So when Erickson says "every Hitchcock cameo ever," he's not fooling around. And if you should find yourself unable to spot the legendary director in an appearance, never fear – there's a handy guide in the video's description that'll tell you where to look. For fun though, give the video a once over before cheating with the guide, and see how many appearances you can spot.
As any Hitchcock fan will tell you, one of the legendary director's signature aspects to his films is his ritual of showing up in almost every film he's ever made. The roles are typically silent, with the director being placed full on in the midst of the action of whatever scene he's in. Though some cameos, such as his guest spot in 1954's Rear Window, you'll definitely have to work to point him out. Of course, a man as dedicated to storytelling wouldn't sacrifice a plot's efficacy for his own vanity, which explains how his cameo in 1944's Lifeboat is that of appearing in a newspaper ad for a weight loss product.
In another obscure game of "Where's Alfred," Hitchcock sneaks himself into the opening of Rope as a bystander walking on the street in the film's opening scene. Break out your field glasses though, as he's a bit hard to spot. Seeing as the film is supposed to operate as one big take, there's no realistic way for the man to appear in the film, unless he were a party guest. It's safe to assume that Hitchcock eschewed such an appearance, as it would ultimately distract from the taut action of the film's suspenseful plot. Throughout his many cameos in almost as many films as he's directed, there are a couple of notable ones in the bunch.
Take for instance, his appearance in 1956's The Wrong Man. Instead of his usual on screen appearance, he makes a vocal cameo to explain how the film's story is one of truth not fiction. While one could argue that this isn't so much a cameo as the director is acting as a disclaimer for his film's plot, we'll allow it because it keeps that streak alive! In another stand out cameo, 1959's North By Northwest shows the director just missing a local bus after his credit has flashed up on the screen. And who can forget 1966's Torn Curtain, which features Hitch holding a baby as a tune familiar to all Alfred Hitchcock Presents fans plays on.
What could perhaps be called Alfred Hitchcock's most fitting cameo is, indeed, his last in 1976's Family Plot. In Hitchcock's final film, he appears as a shadow being viewed through a pane of frosted glass. That glass belongs to the door of the Registrar Of Births And Deaths, and if that's not a fitting exit for the master of suspense and covertly cheeky humor, we don't know what is. It's no secret that Hitchcock is one of Hollywood's sacred heroes, even despite the recent and negative portraits of his own personal history. What cannot be questioned though is the intensity and dedication the man brought to his work, and this cameo clip reel is one of the best testaments to a career spent making audiences laugh as much as they gasped.
Your Daily Blend of Entertainment News
Senior Movies Contributor
CinemaBlend's James Bond (expert). Also versed in Large Scale Aggressors, time travel, and Guillermo del Toro. He fights for The User.