Alfred Hitchcock And The Making Of Psycho Adds Toni Collette, Michael Stuhlbarg And More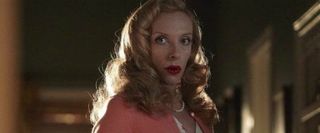 Since My Week With Marilyn was nominated for a couple Academy Awards, it shouldn't come a surprise that similar explorations of cinema's behind-the-scenes history are quickly being shuffled into production. It also isn't surprising that, when looking for subjects from the past to turn into a feature, director Alfred Hitchcock and his infamous blonde obsessions became a topic of choice for more than one project. Julian Jarrold's The Girl, starring Toby Jones and Sienna Miller, explores Hitch and Tippi Hedrin's relationship during the making of The Birds and while that story is certainly interesting, the other Hitchcock tale in development seems like the real prestige project.
Already sporting an all-star cast, Variety reports that Sacha Gervasi's Alfred Hitchcock and the Making of Psycho is close to adding another four fantastic actors. Toni Collette, Michael Stuhlbarg, Danny Huston and Michael Wincott are all in negotiations to join the cast of the film from Fox Searchlight that explores the behind the scenes struggles while shooting Psycho (obviously), the acclaimed director's most famous work.
The article notes that Academy Award nominee Collette, the amazing star of The United States of Tara, is in talks to play the director's longtime assistant and confidant Peggy Robertson. Fresh off his heart-warming turn in Martin Scorsese's Hugo, the Oscar-nominated Michael Stuhlbarg would play Hitch's agent, Lew Wasserman. Huston would play a friend and colleague of writer Alma Reville (Mrs. Hitchcock) named Whitfield Cook. And finally, Wincott is circling the role of Ed Gein, the serial killer on which one of the original slasher flicks was based. I'm not sure how they are going to work Gein into the story but that is certainly the most interesting tidbit from today's casting.
The four great character actors are joining the aforementioned all-star cast that already includes Sir Anthony Hopkins, Scarlett Johansson, Helen Mirren, James D'Arcy and, as of earlier today, Jessica Biel. Hopkins is obviously starring as the big name director with Mirren playing his wife Alma; D'Arcy is Anthony Perkins; Johansson is Janet Leigh; and Biel is actress Vera Miles. That is quite the ensemble. I just can't wait for Gus Van Sant and the Remaking of Psycho.
Your Daily Blend of Entertainment News
Thank you for signing up to CinemaBlend. You will receive a verification email shortly.
There was a problem. Please refresh the page and try again.