Watch A Fan's Interview With Julianne Moore Go Hilariously, Beautifully Right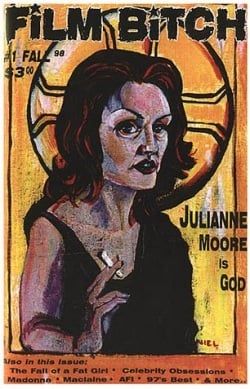 In this job we all read and conduct a lot of celebrity interviews, and trust me, it's rarely as interesting as it seems on the outside. The stars are often exhausted and sick of answering the same questions over and over again, and in the 5 or 10 minutes you get with the talent you barely have time to ask one or two interesting questions, much less build an actual rapport with the person you're interviewing.
But there are always exceptions, and my pal Nathaniel Rogers at The Film Experience definitely hit the jackpot when interviewing Julianne Moore last week for The Kids Are All Right. Nathaniel brought with him the film 'zine he wrote before The Film Experience, for which he painted a portrait of Moore for the cover and dubbed her god (pictured above). It sounds like it would be creepy, but he perfectly balanced the fannishness and the professionalism, and managed to get what sound like some real belly laughs out of Moore, who has probably seen her share of crazy fans over the years.
We wouldn't normally link to someone else's interview for the hell of it, but because Nathaniel is my friend, because the interview is so good and because Moore is so tremendous in The Kids Are All Right, the interview is worth your time. Even if you don't check out their chat, please please go see The Kids Are All Right-- you really may not see a better movie this year.
Staff Writer at CinemaBlend
Your Daily Blend of Entertainment News
Thank you for signing up to CinemaBlend. You will receive a verification email shortly.
There was a problem. Please refresh the page and try again.