Watch George And Lorraine Improv In Back To The Future Behind The Scenes Video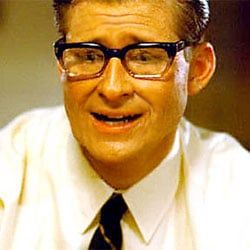 It's been a week completely jammed with Back to the Future details, and aside from some promised extra minutes of Eric Stoltz as Marty McFly, it seems like there's not possibly anything new to learn about the franchise that is included on the mammoth new Blu-Ray set.
Believe it or not, though, there's still more out there-- though definitely not in glorious Blu-Ray quality. A /Film reader happened upon two nine-minute screen test segments taken before production started on Back to the Future, with Lea Thompson and Crispin Glover in their old-age makeup as Lorraine and George, improvising scenes together about ways to improve their marriage (going on a game show!) and giving Marty advice about dealing with Strickland at school. Michael J. Fox is nowhere to be found-- an unknown actor stands in as Marty-- but there is an appearance from Thomas F. Wilson as Biff, needling George out in a driveway.
The improv feels kind of weird, and clearly didn't lead to anything included as part of the movie, but it's very fun to see the actors getting used to their characters and the old-age makeup at the same time. Check out the two videos below and marvel at Crispin Glover especially-- just imagine how boring George McFly might have been if an actor as odd as Glover had tackled the role instead.
Your Daily Blend of Entertainment News
Staff Writer at CinemaBlend