Watch Jason Statham Teach Charisma Carpenter To Play Basketball The Expendables Way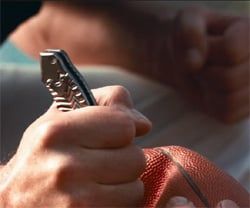 Everything about The Expendables is all testosterone. From the cast, to the trailers, to the fan videos, even the way the movie's characters play basketball. Yeah that's right, at some point Jason Statham takes a break from blowing stuff up in The Expendables and hits a basketball court. But, since he's a badass, he doesn't play basketball the way anyone else does. He plays it with a knife.
The following new clip has Statham's Expendables character showing off his dribbling skills to Charisma Carpenter. He's got game. Take a look:
Jason Statham, Mickey Rourke, Sylvester Stallone, Arnold Schwarzenegger, Jet Li, Dolph Lundgren, Steve Austin, and Bruce Willis punch their way into theaters with The Expendables on August 13th. For more details visit our Expendables preview.
Your Daily Blend of Entertainment News