Watch The Martian Sync Up Perfectly With One Of Pixar's Masterpieces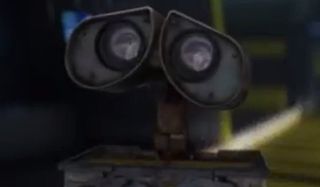 Plenty of people are rather excited about The Martian. How could they not be? Not only is it teaming up the vision of acclaimed director Ridley Scott with the leading man capabilities of Matt Damon, but its plot of a man alone on Mars sounds truly riveting. Weirdly, though, there are also links that can be made between it and one of Pixar's most beloved films: Wall-E. In fact, they're similar enough to allow one clever editor to mash up The Martian's trailer with WALL-E, and it's beyond perfect.
Well, I've got to say that was entirely worth it just to see WALL-E rocking along to Jimi Hendrix's "All Along The Watchtower". OK, it might not be quite as impactful as "Put On Your Sunday Clothes," but it was still rather sensational.
Kudos to Tony D for creating the above video, which especially becomes sublime towards the end thanks to the raucous cuts of WALL-E getting up to mischief on the Earth's surface. Plus, there's no denying the fact that its title is rather ingenious too, as it combines The Martian's lead character's name, Mark Watney, with WALL-E to create: WHATN-E: The Martian. There's a superfluous "H" in there, but still great work.
The Martian, which is due out next month, revolves around Mark Watney, who is left presumed dead on Mars, after a human expedition to the planet goes wrong. Very, very wrong. However, Watney didn't die, and instead he works to find a way to survive on the Red Planet, fully aware that it's going to take four years for his crewmates to return. Watney sends out a beacon to alert NASA, and they then collaborate on how to make the 50 million mile trip to Mars.
Meanwhile, WALL-E, which was released back in 2008 to critical acclaim, sees its titular character/robot, tasked with trying to clean up the world of 2805 after it has become overrun with garbage. Like Mark Watney, he's left alone on the planet to fend for himself, waiting for his eventual ride off the rock. Obviously they're not exactly the same, but the threads are easy to connect.
Clearly, these films share striking similarities, and deserved to be mashed together. But, unfortunately, it's hard to get a glimpse of what makes both of the trailers for these films so gosh darn sensational when one doesn't have sound and the other doesn't have video. So, to show how alike both trailers are, Tony D also uploaded another clip that showed both trailers running simultaneously. And it shows just how much work into creating it. Watch it. Now. Below.
We'll learn if The Martian actually compares to WALL-E's greatness when it is finally released on October 2nd.
Your Daily Blend of Entertainment News
Thank you for signing up to CinemaBlend. You will receive a verification email shortly.
There was a problem. Please refresh the page and try again.