Watch Nearly 6 Minutes Of 127 Hours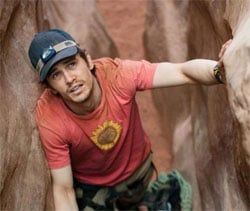 127 Hours begins its theatrical run this weekend and it's the kind of movie you'll want to see once, and then never again. It's everything you've heard, as grisly and horrifying and moving and interesting as Danny Boyle and James Franco could possibly make it. It'll roll out slowly in limited release, so even though the film opens this Friday for a lot of you it may be awhile before it shows up in your theater. It's worth the wait, and with the film's first release only a few days away, I'd recommend skipping these clips and simply reading my review instead.
But for those of you who can't wait, Fox Searchlight has given us six new clips from 127 Hours to share with you. Spoilers are perhaps irrelevant where this movie is concerned. It's based on a true story that's been widely publicized, so you already know what's going to happen. Still, it should be noted that the clips which follow are actually pretty spoiler heavy, and if you're hoping to stay in the dark about most of what goes on in the film before seeing it, then avoid them. Otherwise, read on and I'll try to provide context for each clip as you watch them.
Warning! The following movie clips may contain 127 Hours spoilers.
An enthusiastic and confident Ralston begins his journey into the wilderness, and perhaps foreshadowing what's to come, gets careless and takes a spill.
This conversation is far more important than it seems. In a few moments Aron Ralston's life will be changed forever. These may be the last words he ever exchanges, with anyone. And for the next 127 hours, the memory of this conversation will be a part of what keeps him alive.
Here's the big moment. Aron Rolston, alone in a canyon, falls and find himself trapped. You may not want to watch.
Aron tries to come to grips with his situation. He takes stock of his surroundings and methodically surveys his available assets.
Trapped in the shadow of a canyon wall for more than a day, Aron gets his first taste of sunlight and remembers the childhood moments that shaped his love of the outdoors.
Lonely and feverish, Aron remembers better times tinged with regret.
Your Daily Blend of Entertainment News