Watch Rupert Grint And Emily Blunt In The Wild Target Trailer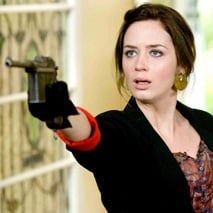 Wild Target is what you get when you combine British deadpan, a hitman with a conscience, Ron Weasley, a con artist on the run, mobsters, a lot of shooting, and the world of artistic forgery. In other words, something real funny. Bill Nighy (Valkyrie) plays hitman Victor Maynard who's sent to kill a con-lady played by Emily Blunt (The Wolfman) after she ripped off a mobster. Instead of making the kill though, he finds himself drawn to his mark and wants to protect her rather than putting two in the back of her head. Before you know it they've hit Rupert Grint (Harry Potter) with a car, and the three are on the run from the mob.
It looks like director Jonathan Lynn (The Fighting Temptations) has taken an unlikely trio and put them together to form a fairly adept comedy team. Nighy looks the part of a slightly over the hill hitman looking for a little redemption (or even a dose of playing the father figure) and Grint brings just a hint of Ronald Weasley's nervous doofus side to the role of a wannabe killer. Blunt appears more than capable of playing the girl who just doesn't quite get the trouble she's made. Oh and in case you didn't know already, from the trailer you'll learn that Rembrandt is, in fact, dead.
Wild Target is set for a June 18 release in the UK. Check out the trailer below.
Your Daily Blend of Entertainment News
Doug began writing for CinemaBlend back when Terminator: The Sarah Connor Chronicles actually existed. Since then he's been writing This Rotten Week, predicting RottenTomatoes scores for movies you don't even remember for the better part of a decade. He can be found re-watching The Office for the infinity time.