Watch Saturday Night Live Make Fun Of Aladdin's Carpet Ride Scene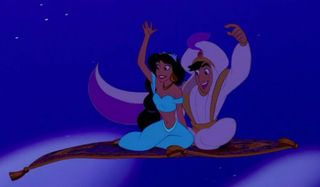 Admit it, when you first saw Disney's Aladdin as a child all you wanted to do was have your own magic carpet that you could ride around on. The mystical floor decoration allows one to soar through the air and – as the song goes – see a whole new world. That being said, there exist a few key flaws with a magic carpet that Aladdin never really addresses. Luckily for us, Saturday Night Live decided to point a few of those issues out during last night's episode. Check it out below.
The scene starts off much like the actual classic sequence from Aladdin: the titular thief turned prince, played by host Adam Driver, flies Jasmine (Cecily Strong) through the air on the carpet, as he serenades her with a rendition of "A Whole New World." However, the romance of the situation clearly deteriorates as a bird flies straight into Jasmine's face during the duet portion of the song. Following that, a bomb strikes her on the head as Aladdin realizes they have flown over Syria, and then a mysterious liquid comes down and drenches the princess from above – which Aladdin quickly identifies as the septic contents of a jetliner. Still, Jasmine somehow puts up with the frustration and sticks with Aladdin.
Soon, the carpet begins to experience engine trouble – because comedy – and the two Disney characters have no other choice but to make a crash landing at a local United States Air Force base. The whole ordeal plays out with hilariously dramatic commentary from Beck Bennet and Leslie Jones as U.S. air force personnel while the crash itself plays out in ultra low-budget fashion – complete with dolls and a miniature runway. Seemingly against all odds, Jasmine still falls in love with Aladdin by the end of the sketch.
This particular segment represents the sort of humor that has become Saturday Night Live's strength over the last couple of years. While past generations of SNL players and writers have excelled at political commentary, or sharp satire, the show's current tone feels much more suited to whimsically absurd humor. That's neither praise nor condemnation of the show's current format, simply an observation of what seems to work best for the legendary sketch show during this particular era. As long as we keep laughing, we're in no position to complain.
If you have yet to watch the Aladdin sketch above, then do yourself a favor and check it out. Adam Driver proved himself as a comedic force to be reckoned with last night, and he left us incredibly excited about the prospect of him hosting again in the near future. Until then you can see him as the villainous Kylo Ren in Star Wars: The Force Awakens, which is in theaters now.
Your Daily Blend of Entertainment News
Originally from Connecticut, Conner grew up in San Diego and graduated from Chapman University in 2014. He now lives in Los Angeles working in and around the entertainment industry and can mostly be found binging horror movies and chugging coffee.