Watch Steven Soderbergh Butcher Cut Of Heaven's Gate For Free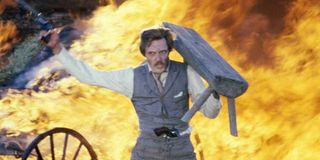 Steven Soderbergh is retired. He's won an Oscar. He has made critically loved hits like Erin Brockovich, Ocean's Eleven and Magic Mike. He went out on top. So what's he up to now? Just re-cutting one of the worst films of all time for funsies.
The Verge has discovered that Steven Soderbergh has not only watched writer-director Michael Cimino's 219-minute drama about the 1890 Johnson County War, Heaven's Gate, but also that he has re-edited the lengthy, loathed feature to be less than half it's original running time. Then he uploaded his cut so you can watch it for free. Soderbergh has titled his version Heaven's Gate: The Butcher's Cut, and posted it on his blog, Extension 765. Using one of his alternate names, Mary Ann Bernard, he explains his inspiration for this project as obsession, writing:
This is just the latest chapter in Heaven's Gate's notoriety. Problems started during the film's production with setbacks that ran its budget four times over what was intended, and bloated its shooting schedule exponentially. Bad press emerged along with stories of Michael Cimino's bad behavior on set. When the overbudget tent pole finally premiered in New York in November of 1980, it was ravaged by critics. The New York Times' Vincent Canby famously wrote in his review, "Nothing in the movie works properly. For all of the time and money that went into it, it's jerry-built, a ship that slides straight to the bottom at its christening…Heaven's Gate is something quite rare in movies these days - an unqualified disaster."
Adding injury to insult, the $44 million Heaven's Gate pulled in just $3.4 million at the box office, earning it a spot amid the biggest bombs of all time. Its failure crippled United Artists studios and made Cimino a laughingstock. His out of control antics during the film's production and Heaven's Gate's subsequent failure are said to have contributed to studios moving away from director-driven fare, to projects more tightly controlled by the studios themselves. Understandably all this has fed into the film's terrible reputation. But Soderbergh is far from the first one to try to cut down this failed film.
The original work print was rumored to have been around 325 minutes (roughly five and a half hours). That was cut to the 219-minute version that drew such initial ire. The subsequent wide release that flopped was a 149-minute version. When it hit television and VHS years later, the 219-minute version was redubbed "The Director's Cut" or "The Legendary Uncut Version." However, Cimino insisted that version was "unfinished." In 2012, a 216-minute, Cimino-approved version played at The Venice Film Festival, and later made it to DVD and Blu-ray. It'll be curious to see if Heaven's Gate's director will deign to comment on Soderbergh's cut.
You can watch Steven Soderbergh's complete 108-minute Heaven's Gate: The Butcher's Cut by clicking the screengrab below, which shows its opening title card/confession:
Your Daily Blend of Entertainment News
Staff writer at CinemaBlend.