How Will Steven Soderbergh Be Remembered After He Retires?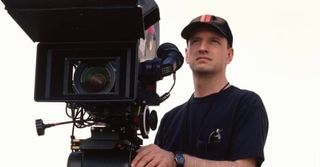 If Steven Soderbergh actually decides to retire, he's going out on a high note.
The director's latest theatrical effort, Side Effects, currently has an 84% Fresh rating on Rotten Tomatoes, with top critics calling the drama "stylish," "gripping" and "thoroughly satisfying." Our own Katey Rich speaks of the director's theatrical finale in her review, saying "the crisp digital cinematography, fine performances and air of cynicism about the modern world are perfectly Soderberghian."
Great term, "Soderberghian." But what does it mean? Can you define Soderbergh's career and his cinematic output with a blanket term? And how will the industry remember Soderbergh a year from now? Ten years from now? Decades from now, when new cinephiles are pulling his films down from the digital cloud to analyze his impact.
Now that we're able to reflect on Soderbergh's career as a whole, I believe his body of work can only be characterized by its glorious inability to be categorized. The storyteller often transitioned into the next phase of his career before the industry was able to pigeonhole him (as everyone in Hollywood is so eager to do). Is he the "Indie" guy? The prestige-picture filmmaker? And he shifted the direction of his storytelling career because he wanted to do it, not because circumstances prompted him to react. That's beyond rare.
For the record, I don't believe Soderbergh's going to stay retired. The 50-year-old might need some time away from the grind of movie-making. The struggle to produce and distribute the types of films that interest him might be too much to endure at the moment, but the industry shape shifts every six months, and the director in Sodernergh eventually is going to be lured out of hibernation by a new storytelling device, a narrative he can't ignore, or a collaboration opportunity with a blistering talent. Because that's just who he is.
But let's, for argument's sake, assume this is the end of Soderbergh's movie career. How will he be remembered? Will he be remembered at all? An unofficial Twitter poll doesn't bode well for the filmmaker's legacy. Asked if Soderbergh is considered a household name, my followers responded with variations of "If it's 2001, yes," and "Yes if your household has movie buffs in it. Otherwise, no way."
It's going to fall to those movie buffs to maintain the director's status as a pivotal, groundbreaking and surprisingly successful crossover director. If I had to single out one characteristic that helps Soderbergh stand out from the directorial pack, it would have to be his ability to remain comfortable on both the indie and mainstream sides of the Hollywood street.
Very few cross that line, falling into one group or the other. Soderbergh was able to parlay the success of the Ocean's franchise – star-studded genre exercises that coasted on camaraderie and cool – into experiments like Full Frontal, Bubble and The Girlfriend Experience.
In fact, if you trace back over Soderbergh's 25-year career, you begin to notice that he often found himself at the forefront of each major movement that characterized the film community. The director's triumphs with sex, lies and videotape prompted film critic Roger Ebert to label him the "Poster Boy for the Sundance Generation." The bidding war over that film's rights notoriously kick-started Sundance as a commercially-driven festival, a turn of events that went on to benefit later Sundance alums like Kevin Smith, David O. Russell, Todd Solondz and Christopher Nolan, to name just a few.
He dabbled in all genres, from sci-fi (Solaris) and period noir (The Good German) to modern history (the two-part Che) and comedy … though not as often as I selfishly would have liked. His films often had a distinct visual palette, but more than anything, they were characterized by their intelligence. Soderbergh strikes me as an "actor's director," because top talents wanted to work with him, they often returned for more, and he coaxed the best work out of performers such as Channing Tatum, Matthew McConaughey, Brad Pitt, Benicio del Toro and Clooney.
And he was successful on his own terms.
That's how I'll remember Soderbergh's 25-year career if, in fact, it has come to a close. His versatility inspired him to experiment in multiple genres, and his talent ensured his success. How do you think you'll remember this impressive director?
Sean O'Connell is a journalist and CinemaBlend's Managing Editor. He's frequently found on Twitter at @Sean_OConnell. ReelBlend cohost. A movie junkie who's Infatuated with comic-book films. Helped get the Snyder Cut released, then wrote a book about it.
Your Daily Blend of Entertainment News
Thank you for signing up to CinemaBlend. You will receive a verification email shortly.
There was a problem. Please refresh the page and try again.