This Week In Home Entertainment: LEGO Movie, Grand Budapest Hotel And House Of Cards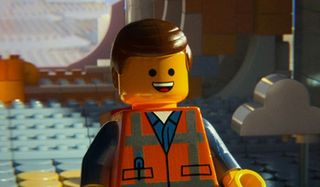 The LEGO Movie: Everything Is Awesome Edition Blu-ray
Everything about The LEGO Movie: Everything is Awesome Edition Blu-ray set is, indeed, awesome. From Warner Home Video's clever boxed packaging, which includes an actual LEGO minifigure of Master Builder Vitruvius, to the bonus features, the set should bring the kid out in every purchaser. What's even cooler? The movie is pretty spectacular, too.
The LEGO Movie follows an ordinary worker LEGO named Emmet (Chris Pratt) who literally falls into an extraordinary situation, learning he must protect a weapon called the Kragle from villain Lord Business (Will Ferrell). What follows is a wild romp through the various LEGO universes filled with excellent voicework from the likes of Morgan Freeman, Elizabeth Banks, Will Arnett as an epic Batman, Nick Offerman, Liam Neeson, Will Forte, Alison Brie, Cobie Smulders and more. In short, The LEGO Movie features a pretty stacked cast.
We could talk about the teamwork and family-oriented lessons employed by the film and we could spend some time discussing the kid-appropriate but adult-appreciated humor The LEGO Movie uses. We could even talk about how startlingly good a movie made entirely out of brightly colored LEGOs looks on Blu-ray. However, the main reason The LEGO Movie is a success is that it offers pure, unadulterated fun.
You can order The LEGO Movie over at Amazon.
Best Special Feature: Michelangelo And Lincoln: History Cops is a fake trailer that's about exactly what it claims. The special effects are low quality. The dialogue is intentionally bad, and the whole thing works perfectly, for some reason. In that way, it's a lot like Lego Movie. It's just the right balance of clever and silly.
Other Bonus Features:
Commentary with Filmmakers and Cast
Batman's "A True Artist"
Enter the Ninjago
Behind The Scenes: Bringing Lego to Life
"Everything Is Awesome" Sing-Along
Behind The Scenes: See It, Build It
Behind The Scenes: Stories From The Story Team
Fan-Made Films: Top-Secret Submissions
Outtakes
Addiotnal Promotional Content
Alleyway Test
Deleted Scenes
"Dream Job: Meet The Lego Builders"
The Grand Budapest Hotel Blu-ray
Wes Anderson movies are often thoughtful, witty and educated. They are stylized in a specific and strange manner and filled with uncanny and amusing dialogue. Adjectives used to describe these films often include whimsical, magical and quirky. Anderson's latest, The Grand Budapest Hotel offers each of these lovely looks, laughs and feelings but adds in a deeper sense of loss and nostalgia to boot.
It may take a little while to fully check into The Grand Budapest Hotel. The film is cut haphazardly, jumping from a girl reading a book in an unknown time period to a narrator telling the story of another man's story. This story within a story within a story might throw anyone off, but once we peel back the layers and really engage in the tale of a young immigrant and his hotel concierge boss, the movie grows into an enjoyable and strange endeavor with a few notes of sadness found within.
At the heart of the story is a murder. The story goes like this: An older woman who is a patron of the famed Grand Budapest Hotel suffers a quick and mysterious death. She leaves behind oodles of money, all of which her family members hope to inherit. Instead, she leaves a valuable painting to her favorite concierge Monsier Gustave H. (Ralph Fiennes), who travels with a lobby boy named Zero (Tony Revolori) to pick up his precious prize. While The Grand Budapest Hotel is an adventure story, it is more of a comedy than a traditional whodunit and that's where Anderson's signature wacky antics and sight gags kick in.
The cut of the film is somewhat jumpy, but the thoughtful portrayals of Zero and M.Gustave more than make up for those small errors. Additionally, Twentieth Century Fox Home Entertainment's set looks lovely on Blu-ray, even making the ugly Pepto Bismal pink of the Grand Budapest palatable. Anderson's unique style and tone may no longer surprise the most ardent of fans, but he certainly hasn't lost his touch with The Grand Budapest Hotel.
You can order The Grand Budapest Hotel over at Amazon.
Best Special Feature: The best featurette is "Bill Murray Tours The Town" because every excuse to let Bill Murray wander around in a foreign country and act weird is worthwhile, especially when there's talk of moustaches, sneaking over the border and small town landmarks.
Other Bonus Features:
" "Kunstmuseum Zubrowska Lecture
"The Society Of The Crossed Keys"
"The Making Of The Grand Budapest Hotel"
Mendl's Secret Recipe
"Cast"
"Wes Anderson"
Stills Gallery
Theatrical Trailer
House Of Cards: The Complete Second Season Blu-ray
House of Cards has always been about a Washington D.C. power couple willing to pull out all of the stops to stay on top. Frank and Claire Underwood (Kevin Spacey and Robin Wright) work as a team unit, navigating the complicated and convoluted political structure, and in Season 2, the stakes are even higher.
To begin, Underwood has recently been sworn is as the Vice President of the United States. His first order of business is to amass as much power by getting as close to President Garrett Walker (Michel Gill) as possible. However, his plans are sidetracked when an investigation into the death of Congressman Peter Russo gets underway. Trouble also comes in the form of the press, who find ways to shed light on the Underwood's personal lives.
House of Cards isn't the sort of show that can be enjoyed for an episode or two. Fans who didn't engage in the show's first season will find themselves confused for a good portion of the episodes, here. Even Underwood's favorite barbeque joint and his after hours habits are steeped in Season 1 history, helping us to understand more about the mind of the cunning politician in Season 2. While a few of the new plotlines do steer Season 2 of House of Cards in a more over-the-top direction, the output is mostly rich with detail and intricate political machinations and serves as a second helping that would make Freddy Hayes (Reg E. Cathey) proud.
It's funny to watch House of Cards: The Complete Second Season on Blu-ray rather than via the streaming service Netflix. I had the same binge watching experience, but Sony's gorgeous-looking black and white box set actually opens up in a way that makes it difficult to pull the discs out, making the loading experience cumbersome. If ever there was an argument for streaming rather than discs, this would be it.
You can order House of Cards: The Complete Second Season over at Amazon.
Best Special Feature: "Line Of Succession" might sound like a featurette about what happens when the President is unable to perform his duties, but in actuality, it's about how House of Cards shoots. Instead of putting together the whole season at once, episodes are shot two at a time, with one director handling both episodes. That allows the same extras to be used, and more importantly, it allows everyone to maximize their time. This behind the scenes look offers us a ton of tidbits and is more than worth a watch.
Other Bonus Features:
"Politics For The Sake Of Politics"
"Direct Address"
"Two Houses"
Table Read
Other June 17 Releases
Regular Show
Gift
Sinbad: Make Me Wanna Holla
Meth Head
Ernest & Celestine
Tosh.O: Collas Plus Exposed Arms
Joe
Amazing Race & Top Chef superfan with a pinch of Disney fairy dust thrown in. If you've created a rom-com I've probably watched it.