Weekend Box Office: 42 Hits A Homerun, Scary Movie 5 Strikes Out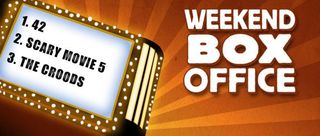 No one really wanted Scary Movie 5. Seven years ago audiences turned out to give Scary Movie 4, what easily should have been the last one, a decent send off with a very respectable $40 million opening and a domestic total of $90 million. But some folks don't know when to let it go and audiences showed just how last decade the franshise is. The movie launched to the tune of $15 million, taking a distant second place at this weekends box office and setting a record low for the series, far below what most of the other Scary Movies entries enjoyed.
We haven't seen Brian Helgeland behind the lens since his thriller The Order tanked almost ten years ago. But the director of A Knights Tale discovered his directorial second wind with the historical drama 42, the number one movie this weekend. The movie recounts the tumultuous events surrounding the signing of Jackie Robinson, baseball's first black player. The movie debuted with $27 million, the highest opening for a baseball movie according to RT.
The Place Beyond the Pines stars Ryan Gosling, Bradley Cooper and Eva Mendes, and has been slowly working to find a place beyond the film festival circuit. Released in just a handful of theaters two weeks ago, it expanded to just over 500 venues and banked enough to slip into the top ten this weekend.
Last weekend's top flick Evil Dead slipped hard, dropping almost 65% to fifth place behind The Croods which is holding strong in its fourth week, and G.I. Joe: Retaliation which crossed the $100 million mark line this weekend.
For the full weekend top ten, check out the chart below:
1.

42*
$27,250,000
Total: $27,250,000
LW: N WR: 1
THTRS: 3,003
2.

Scary Movie 5*
$15,153,000
Total: $15,153,000
LW: N WR: 1
THTRS: 3,402
3.

The Croods
$13,200,000
Total: $142,524,000
LW: 3 WR: 4
THTRS: 3,689
4.

G.I. Joe: Retaliation
$10,800,000
Total: $102,426,000
LW: 2 WR: 3
THTRS: 3,535
5.

Evil Dead (2013)
$9,500,000
Total: $41,500,000
LW: 1 WR: 2
THTRS: 3,025
6.

Jurassic Park 3D
$8,820,000
Total: $31,929,000
LW: 4 WR: 2
THTRS: 2,778
7.

Olympus Has Fallen
$7,283,000
Total: $81,890,000
LW: 5 WR: 4
THTRS: 2,935
8.

Oz The Great and Powerful
$4,923,000
Total: $219,444,000
LW: 7 WR: 6
THTRS: 2,504
9.

Tyler Perry's Temptation: Confessions of a Marriage Counselor
$4,500,000
Total: $45,422,000
LW: 6 WR: 3
THTRS: 1,805
10.

The Place Beyond the Pines
$4,080,000
Total: $5,455,000
LW: 13 WR: 3
THTRS: 514
Your Daily Blend of Entertainment News
Thank you for signing up to CinemaBlend. You will receive a verification email shortly.
There was a problem. Please refresh the page and try again.