Weekend Box Office: American Sniper Takes Down January Record, Blackhat Crashes and Burns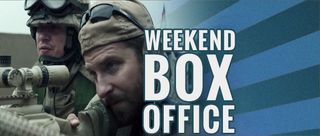 After spending three weeks in a very shrewd, word-of-mouth buzz generating, 2014 Oscars qualifying limited release, American Sniper expanded into wide release this weekend, catapulting to number one and setting records at the same time.
Clint Eastwood's American Sniper not only managed to prove itself financially viable by earning $90 million this weekend against its $60 million production budget, it also marked the biggest ever January haul, blowing the doors off of Ride Along's $41 million debut last year. It fell just shy of having the biggest wide-release opening for a Rated-R movie as well, missing The Matrix: Reloaded's $91 million start in 2003 by less than $2 million.
In an almost complete reversal from American Sniper, Blackhat secured itself a place as 2015's first box office bomb. The movie stars People's sexiest man of 2014 Chris Hemsworth, but neither that fact nor a hefty marketing effort were able to offer the movie anything more than a wipe out debut. With only $4 million against a $70 million production budget, Blackhat was barely able to scrape a spot at the bottom of the top ten.
Comedies The Wedding Ringer and Paddington made quiet but less disastrous debuts. They took second and third place respectively with $21 million and $19 million. Both topped last weekend's number one Taken 3 which slipped a painful 65% to fourth place.
The Hobbit: The Battle of the Five Armies is losing the fight to be the lowest domestic grossing movie of the franchise. It passed the $244 million mark, but is struggling to hit the $258 million mark to match The Desolation of Smaug and well behind An Unexpected Journey's $303 million. Both of those movies also floated international totals around $1 billion. The Battle of Five Armies has stalled out around $800 million. Of course the franchise is a still a massive box office success, but it's interesting to note that the trilogy has seen each entry do less well than the previous, the exact opposite of the Lord of the Rings trilogy which increased sales with each release.
For the full weekend top ten, check out the chart below:
1.
American Sniper

$90,205,000Total: $93,630,000LW: 21
THTRS: 3,555
2.
The Wedding Ringer *

$21,000,000Total: $21,000,000LW: N
THTRS: 3,003
3.
Paddington *

$19,287,000Total: $19,287,000LW: N
THTRS: 3,303
4.
Taken 3

$14,050,000Total: $62,837,000LW: 1
THTRS: 3,594
5.
Selma

$8,300,000Total: $25,964,000LW: 2
THTRS: 2,235
6.
The Imitation Game

$7,192,000Total: $50,798,000LW: 6
THTRS: 1,611
7.
Into the Woods

$6,542,000Total: $114,296,000LW: 3
THTRS: 2,758
8.
The Hobbit: The Battle of the Five Armies

$4,860,000Total: $244,537,000LW: 4
THTRS: 2,220
9.
Unbroken

$4,267,000Total: $108,610,000LW: 5
THTRS: 2,602
10.
Blackhat *

$4,030,000Total: $4,030,000LW: N
THTRS: 2,567
Your Daily Blend of Entertainment News
Thank you for signing up to CinemaBlend. You will receive a verification email shortly.
There was a problem. Please refresh the page and try again.