Weekend Box Office: Exodus: Gods and Kings Takes A Less Than Epic Number One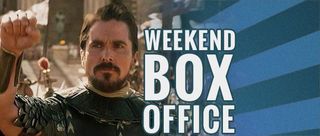 Ridley Scott's latest epic historical movie hit theaters this weekend and while it took an easy number one, there wasn't anything historic or epic about its box office performance.
Exodus: Gods and Kings debuted at the top spot with $24 million. Scott's directorial efforts are always hit and miss when it comes to box office openings, but this not only marks one of the lower for his career, but also low compared to another Biblical epic that opened this year. Darren Aronofsky's Noah, considered to be far more controversial and notably less broad in its appeal opened at $40 million.
Chris Rock's comedy Top Five, which he wrote, directed and starred in, opened at number four with $7 million. That's only a small step up from the $5 million opening his last acting/directing double effort I Think I Love My Wife back in 2007.
For the full weekend top ten check out the chart below:
1.
Exodus: Gods and Kings *

$24,500,000Total: $24,500,000LW: N
THTRS: 3,503
2.
The Hunger Games: Mockingjay - Part 1

$13,200,000Total: $277,398,000LW: 1
THTRS: 3,731
3.
Penguins of Madagascar

$7,300,000Total: $58,839,000LW: 2
THTRS: 3,667
4.
Top Five *

$7,210,000Total: $7,210,000LW: N
THTRS: 979
5.
Big Hero 6

$6,145,000Total: $185,325,000LW: 4
THTRS: 2,943
6.
Interstellar

$5,500,000Total: $166,800,000LW: 5
THTRS: 2,692
7.
Horrible Bosses 2

$4,630,000Total: $43,601,000LW: 3
THTRS: 3,202
8.
Dumb and Dumber To

$2,757,000Total: $82,117,000LW: 6
THTRS: 2,842
9.
The Theory of Everything

$2,525,000Total: $17,148,000LW: 7
THTRS: 1,220
10.
Wild (2014)

$1,550,000Total: $2,423,000LW: 15
THTRS: 116
Your Daily Blend of Entertainment News
Thank you for signing up to CinemaBlend. You will receive a verification email shortly.
There was a problem. Please refresh the page and try again.