Weekend Box Office: Fifty Shades Fades Fast But Still Number One Against Weak Competition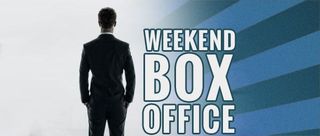 Proving that its mystique is little more than flash-in-the-pan titillation, Fifty Shades of Grey plummeted over 70% from last weekend and only held number one because the fresh blood came in pre-clotted or pre-thinned and ready to flop.
The biggest tanker this weekend was the sort-of anticipated sequel to 2010's Hot Tub Time Machine. Sort of, because, despite some heavy marketing the movie floundered in with just $5 million and seventh place, well behind the third place $15 million debut of its predecessor. That's toughest luck for franchise addition Adam Scott who's strugged to convert his television success into Hollywood acclaim. Audiences and critics seem to agree that the sequel doesn't hold up against the original, and with this box office failure confirmation it's probably a good idea that the tub be drained once and for all.
Kevin Costner's second feel good movie to roll out in the last four weeks, McFarland USA, is centered in the world of running, but the film was slow out of the starting blocks. Despite solid reviews, interest in the ongoing stream of Disney sports flicks continues to wane, but it's not entirely bad news for McFarland. The $11 million fourth place opening opening puts it on track to at least break even against a modest $17 million production budget.
Can't Buy Me Love re-tread The DUFF (updated for the 2010's with gender reversal and gratuitous Ken Jeong casting) landed in a very close fifth place, but an $11 million debut easily clears its shoe string $9 million budget, making it an instant profit if not a particularly big money maker.
American Sniper continues to hold fiercely to its decreasing share at the box office. Adding almost $10 million this weekend, a $319 million domestic total is less than $17 million away from making it the highest grossing film of 2014.
For the full weekend top ten, check out the chart below:
1.
Fifty Shades of Grey

$23,246,000Total: $130,148,000LW: 1
THTRS: 3,655
2.
Kingsman: The Secret Service

$17,525,000Total: $67,106,000LW: 2
THTRS: 3,266
3.
The SpongeBob Movie: Sponge Out of Water

$15,500,000Total: $125,172,000LW: 3
THTRS: 3,680
4.
McFarland, USA *

$11,315,000Total: $11,315,000LW: N
THTRS: 2,755
5.
The DUFF *

$11,025,000Total: $11,025,000LW: N
THTRS: 2,575
6.
American Sniper

$9,650,000Total: $319,607,000LW: 4
THTRS: 3,235
7.
Hot Tub Time Machine 2 *

$5,800,000Total: $5,800,000LW: N
THTRS: 2,880
8.
Jupiter Ascending

$3,660,000Total: $39,517,000LW: 5
THTRS: 2,503
9.
The Imitation Game

$2,565,000Total: $83,921,000LW: 8
THTRS: 1,408
10.
Paddington

$2,289,000Total: $67,661,000LW: 7
THTRS: 1,837
Your Daily Blend of Entertainment News
Thank you for signing up to CinemaBlend. You will receive a verification email shortly.
There was a problem. Please refresh the page and try again.