Weekend Box Office: Fury Fires Way To Number One, The Best Of Me Is The Worst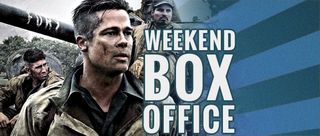 $340 million dollars. That's how far behind domestic box office ticket sales are from last year. In fact, sales are so slow they could end up being the lowest in seven years. That will be down to how well the holiday movies fare come December, but until then the usual October doldrums aren't doing much to help.
Brad Pitt's WWII tank action drama launched at number one, but at a lower than expected $23 million. Animated Day of the Dead themed The Book of Life narrowly missed a second place debut, hitting $17 million for third place behind the resilient Gone Girl which banked almost $18 million. That movie dropped just 30% going into its third week, crossing the $100 million mark.
There wasn't much love or romance for Nicholas Sparks fans this weekend. The Best of Me turned out to be the worst, at least as far as opening weekends go. With a fifth place, $10 million start the movie had the lowest ever debut for a Sparks adaptation.
But it wasn't financial bad news for everyone. Michael Keaton's latest offering Birdman made huge bank despite opening in just 4 venues. It took in over $400,000, more than $100,000 per location, one of the highest ever for a small release live action film.
For the full weekend top ten, check out the chart below:
1.
Fury (2014) *

$23,500,000Total: $23,500,000LW: N
THTRS: 3,173
2.
Gone Girl

$17,800,000Total: $107,069,000LW: 1
THTRS: 3,249
3.
The Book of Life (2014) *

$17,000,000Total: $17,000,000LW: N
THTRS: 3,070
4.

Alexander and the Terrible, Horrible, No Good, Very Bad Day
$12,039,000
Total: $36,871,000
LW: 3
THTRS: 3,088
5.
The Best of Me *

$10,200,000Total: $10,200,000LW: N
THTRS: 2,936
6.
Dracula Untold

$9,889,000Total: $40,735,000LW: 2
THTRS: 2,900
7.
The Judge

$7,940,000Total: $26,843,000LW: 5
THTRS: 3,003
8.
Annabelle

$7,925,000Total: $74,127,000LW: 4
THTRS: 2,878
9.

The Equalizer
$5,450,000
Total: $89,170,000
LW: 6
THTRS: 2,262
10.
The Maze Runner

$4,500,000Total: $90,837,000LW: 8
THTRS: 2,155
Your Daily Blend of Entertainment News
Thank you for signing up to CinemaBlend. You will receive a verification email shortly.
There was a problem. Please refresh the page and try again.