Weekend Box Office: Get Him To The Greek Can't Get To The Top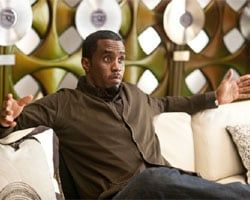 2010 is well on its way to becoming the worst movie summer in recent history. For proof you need look no further than this weekend's number one. Shrek Forever After has repeated as the top movie in America again. It's number one not because it's good, or because it's raking in all that much cash, but because there's just nothing else worth seeing being released. Four new movies hit theaters this weekend and while Get Him to the Greek is good and Splice is watchable, none of this bunch really feels like a summer film. Get Him to the Greek, Splice, Killers, and Marmaduke sounds more like the release schedule for some random weekend in October, not on one of the most hotly attended, summer movie weekends of the year.
Hollywood is sure to blame their bottomed our summer box office receipts (they're down 19% overall) on piracy, that's their scapegoat for whenever they screw up, but the truth is that no one is going to the movies because they aren't releasing movies anyone wants to see. The summer started off with a bang when Paramount released Iron Man 2 and since then it's been a series of worn out, mostly unwelcome concepts, and smaller movies which don't really belong in summer anyway. Missing are the big event movies which usually pack their way into the first month of the summer.
Next weekend things may start to change. The A-Team and Karate Kid open and they're the kind of summer event movies we've been missing. The following week we get Toy Story 3, sure to be a massive hit. Maybe things will get better. If not, there's always Inception. For now, here's this weekend's tepid box office totals:
1.

Shrek Forever After
$25,300,000 -
Total: $183,043,000
LW: 1 WR: 3
THTRS: 4,386
2.

Get Him to the Greek *
$17,423,000 -
Total: $17,423,000
LW: N WR: 1
THTRS: 2,697
3.

Killers *
$16,100,000 -
Total: $16,100,000
LW: N WR: 1
THTRS: 2,859
4.

Prince of Persia: The Sands of Time
$13,900,000 -
Total: $59,542,000
LW: 3 WR: 2
THTRS: 3,646
5.

Sex and the City 2
$12,650,000 -
Total: $73,434,000
LW: 3 WR: 2
THTRS: 3,445
6.

Marmaduke *
$11,300,000 -
Total: $11,300,000
LW: N WR: 1
THTRS: 3,213
7.

Iron Man 2
$7,783,000 -
Total: $294,294,000
LW: 4 WR: 5
THTRS: 3,007
8.

Splice *
$7,450,000 -
Total: $7,450,000
LW: N WR: 1
THTRS: 2,450
9.

Robin Hood
$5,133,000 -
Total: $94,262,000
LW: 5 WR: 4
THTRS: 2,599
10.

Letters to Juliet
$3,000,000 -
Total: $43,300,000
LW: 6 WR: 4
THTRS: 1,962
Your Daily Blend of Entertainment News
Thank you for signing up to CinemaBlend. You will receive a verification email shortly.
There was a problem. Please refresh the page and try again.