Weekend Box Office: Goosebumps Scares Up A Number One Win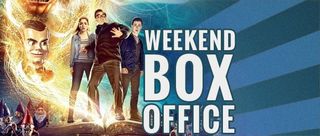 After two weekends at number one The Martian dropped low enough to let some of the usual October doldrum entries have a shot at number one. One of the 20th century's most popular children's book series got an adaptation and took the opportunity.
If you were in middle school or junior high in the 1990s you were probably part of the group of young readers that made R. L. Stine a household name. His book series, at its peak, sold more than 4 million copies each month. This weekend, an adaptation of Goosebumps starring Jack Black banked $23 million scare up the number one spot at the box office.
The Martian added $21 million to its now $143 million domestic total, dropping to second place and handily topping Steven Spielberg's latest drama Bridge of Spies. Despite having major names attached (directed by Spielberg, written by the Coen brothers, starring Tom Hanks), it settled for a quiet $15 million debut. Putting that against its $40 million budget, the movie is going to have to draw heavily on international sales to get out of the red.
Guillermo del Toro's latest offering Crimson Peak took a hard hit, landing a fourth place opening with just $12 million. That's his lowest wide opening release since Mimic in 1997, but better than his last fantasy horror flick Pan's Labyrinth. That film was a foreign language entry that didn't see the inside of more than 1,200 screens during its release in North America but still managed $37 million over the course of its run. Del Toro has a strong international following and the movie has $13 million in foreign sales to date, but it still has some ground to cover to catch up to its reported $55 million production budget.
Pan took a hard but not unexpected hit dropping more than 60% and slipping to sixth place. To date it has only earned $25 million domestically and another $25 million internationally, against a hefty $150 million budget, locking in its spot as one of the years biggest busts. Feel-good sports flick Woodlawn opened in the number nine spot with $4 million.
For the full weekend top ten, check out the chart below:
1.
Goosebumps *

$23,500,000Total: $23,500,000LW: N
THTRS: 3,501
2.
The Martian

$21,500,000Total: $143,795,658LW: 1
THTRS: 3,701
3.
Bridge of Spies *

$15,380,000Total: $15,380,000LW: N
THTRS: 2,811
4.
Crimson Peak *

$12,850,000Total: $12,850,000LW: N
THTRS: 2,984
5.
Hotel Transylvania 2

$12,250,000Total: $136,409,388LW: 2
THTRS: 3,533
6.
Pan

$5,860,000Total: $25,738,183LW: 3
THTRS: 3,515
7.
The Intern

$5,405,000Total: $58,730,982LW: 4
THTRS: 2,707
8.
Sicario

$4,500,000Total: $34,662,613LW: 5
THTRS: 2,130
Swipe to scroll horizontally
9.
Woodlawn *
$4,100,000
Total: $4,100,000
LW: N
THTRS: 1,553
10.
Maze Runner: The Scorch Trials

$2,750,000Total: $75,411,970LW: 6
THTRS: 1,967
Your Daily Blend of Entertainment News