Weekend Box Office: Gravity Holds Strong To Number One, Machete Gets The Ax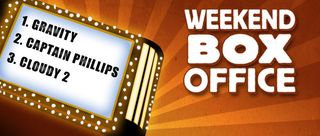 There was big continued pull on audiences from Alfonso Cuaron's sci-fi thriller Gravity this weekend. After setting a record for the highest October opening last weekend, the movie held on strong, dropping just 20% and maintaining a death grip on the number one spot. Adding $44 million this weekend, it handily crossed the $100 million mark winding up at $123 million domestic and nearing the $200 million level internationally.
Tom Hanks' biopic Captain Phillips debuted with moderate success, banking $26 million against a $55 million budget and taking a distant second place.
One of the least anticipated sequels of the year, Machete Kills, proved its lack of desirability by opening at a weak fourth place with $3.8 million. That opening marks a huge drop from the original Machete's $11 million opening in 2010 and the lowest debut for director Robert Rodriguez.
For the full weekend top ten, check out the chart below:
1.
Gravity

$44,265,000Total: $123,400,000LW: 1
THTRS: 3,660
2.
Captain Phillips *

$26,000,000Total: $26,000,000LW: N
THTRS: 3,020
3.
Cloudy with a Chance of Meatballs 2

$14,200,000Total: $78,037,000LW: 2
THTRS: 3,874
4.
Machete Kills *

$3,797,000Total: $3,797,000LW: N
THTRS: 2,538
5.
Runner Runner

$3,725,000Total: $14,114,000LW: 3
THTRS: 3,026
6.
Prisoners

$3,665,000Total: $53,620,000LW: 4
THTRS: 2,855
7.
Insidious Chapter 2

$2,650,000Total: $78,447,000LW: 8
THTRS: 2,156
8.
Rush (2013)

$2,364,000Total: $22,202,000LW: 5
THTRS: 2,130
9.
Don Jon

$2,340,000Total: $20,141,000LW: 6
THTRS: 1,996
10.
Baggage Claim

$2,075,000Total: $18,272,000LW: 7
THTRS: 1,320
Your Daily Blend of Entertainment News