Weekend Box Office: Liam Neeson Flies Non-Stop to Number One, Frozen Banks A Billion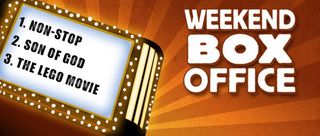 People love to watch Liam Neeson fighting to get out of impossible situations. Taken, Taken 2, Unknown and The Grey all opened at number one. This weekend continued the tradition with Non-Stop banking $30 million for an easy number one.
Second place went to Son of God which banked $26 million. That's a noticeably lower opening from the last feature film about Jesus, The Passion of the Christ, which debuted with $83 million back in 2004.
After three weekends at number one The LEGO Movie was finally toppled, dropping to third place. But adding $21 million to its total, the animated feature cruised past the $200 million mark.
Frozen spent its 15th weekend in the top ten and is nearing the $400 million line in domestic sales. Internationally it passed the billion dollar mark, joining an elite group of just seventeen other movies to achieve that level of sales.
For the full weekend top ten, check out the chart below:
1.
Non-Stop *

$30,019,000Total: $30,019,000LW: N
THTRS: 3,090
2.
Son of God *

$26,500,000Total: $26,500,000LW: N
THTRS: 3,260
3.
The LEGO Movie

$21,015,000Total: $209,325,000LW: 1
THTRS: 3,770
4.
The Monuments Men

$5,000,000Total: $65,690,000LW: 5
THTRS: 3,002
5.
3 Days to Kill

$4,900,000Total: $20,701,000LW: 2
THTRS: 2,872
6.
RoboCop (2014)

$4,500,000Total: $51,210,000LW: 4
THTRS: 2,885
7.
Pompeii

$4,300,000Total: $17,740,000LW: 3
THTRS: 2,658
8.
Frozen

$3,611,000Total: $388,736,000LW: 8
THTRS: 1,746
9.
About Last Night (2014)

$3,400,000Total: $43,750,000LW: 6
THTRS: 1,804
10.
Ride Along

$3,065,000Total: $127,189,000LW: 7
THTRS: 1,869
Your Daily Blend of Entertainment News
Thank you for signing up to CinemaBlend. You will receive a verification email shortly.
There was a problem. Please refresh the page and try again.