Weekend Box Office: Lucy Triumphs Over Less Than Legendary Hercules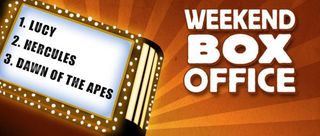 The big summer blockbuster heading to theaters this weekend ended up washing out, leaving room for number one to go to a quirky director who hasn't had a movie in the top spot in almost twenty years.
Dwayne "The Rock" Johnson has long wanted to play the title role in a Hercules movie, but it turns out audiences weren't nearly as excited about it as he was. The effects heavy legend flick came in on a relatively small $100 million budget, but roll in what has been an extensive marketing campaign and the $29 million second place it earned this weekend has given the hero an unlucky thirteenth labor to struggle against: turning a profit.
Meanwhile Luc Besson, generally known for making movies with lithesome actresses performing elaborate fight sequences, hasn't had a movie open at number one in the United States since The Fifth Element captured audience imaginations in 1997. Thanks in part to Scarlett Johansson's fame and in part to a lack of anything more interesting in theaters, Lucy took a solid first place this weekend with $44 million.
Almost everyone has seen a Rob Reiner film (you know, the guy who directed The Princess Bride) but most people don't see his movies in theaters no matter how good they might be. So, when they're really not that good at all, like his latest offering And So It Goes (currently 15% fresh at Rotten Tomatoes), they end up at number eight with a paltry $4 million.
One of Phillip Seymour Hoffman's last films, and the first to be released posthumously in the US, arrived quietly in theaters this weekend. Showing in just 370 venues, A Most Wanted Man was third place out of the weekend's top ten for per theater earnings, coming in tenth place overall with just $2 million.
For the full weekend top ten, check out the chart below:
1.
Lucy *

$44,025,000Total: $44,025,000LW: N
THTRS: 3,173
2.
Hercules (2014) *

$29,000,000Total: $29,000,000LW: N
THTRS: 3,595
3.
Dawn of the Planet of the Apes

$16,400,000Total: $172,089,000LW: 1
THTRS: 3,668
4.
The Purge: Anarchy

$9,896,000Total: $51,272,000LW: 2
THTRS: 2,856
5.
Planes: Fire & Rescue

$9,303,000Total: $35,121,000LW: 3
THTRS: 3,839
6.
Sex Tape

$5,975,000Total: $26,877,000LW: 4
THTRS: 3,062
7.
Transformers: Age of Extinction

$4,600,000Total: $236,352,000LW: 5
THTRS: 2,476
8.
And So It Goes *

$4,552,000Total: $4,552,000LW: N
THTRS: 1,762
9.
Tammy

$3,400,000Total: $78,147,000LW: 6
THTRS: 2,562
Swipe to scroll horizontally
10.
A Most Wanted Man *
$2,717,000
Total: $2,717,000
LW: N
THTRS: 361
Your Daily Blend of Entertainment News
Thank you for signing up to CinemaBlend. You will receive a verification email shortly.
There was a problem. Please refresh the page and try again.